Datsyuk, Kovalchuk playing in Russia for now
Pavel Datsyuk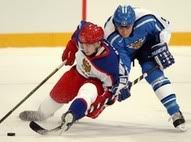 Currently not under contract to either of their NHL clubs, Pavel Datsyuk and Ilya Kovalchuk are moving forward with their plans to play in Russia while their contract negotiations with Detroit and Atlanta, respectively, are on-going.
A report from Sport Express (
translated on the Russian Hockey Digest web site
) says that Ilya Kovalchuk's agent is meeting today (Monday) to arrange for Kovalchuk to join Khimik Voskresensk of the Russian Super League in the upcoming Spartak's Cup (which starts tomorrow).
Meanwhile, Datsyuk is already playing with Dynamo Moscow (last season's Super League champions), scoring a goal in a 6-2 Dynamo victory over Karpat in a pre-season tournament played in Finland this weekend. Datsyuk spoke about his ongoing negotiations with the Red Wings in an interview with Soviet Sport (
translation from Russian Hockey Digest
).