NY Rangers Prospect Report

NHL.com just released their "
Rangers Prospects Report
", which might contain a little bit of mucky-muck (it
is
NHL.com, after all, where the best kind of news is no news at all), but some of these players might be in a Wolf Pack jersey this season, which is why I'm posting it here. Here's a brief overview of what was written about some of the players:
LW Nigel Dawes -
"Said to have the best hands in junior hockey and was voted runner-up as Western Hockey League player of the year. He's very strong, he's good at going to the net, and he's proven he can score goals."
G Henrik Lundqvist -
"Lundqvist has represented Sweden in seven different major international tournaments. He's had five seasons in the top Swedish league and might have come to North America a year ago. He fills the net to the point where you couldn't get a pea past him sideways."
G Al Montoya -
"Completed three seasons at Michigan before turning pro. He will be a solid, solid goaltender in the NHL. His lateral mobility has improved under the tutoring of Benoit Allaire."

Hugh Jessiman

Nigel Dawes
C Jarko Immonen -
"A well-balanced skater with good hands and a blistering slap shot. He plays a strong two-way game, he passes the puck well and his vision is terrific."
RW Hugh Jessiman -
"6-foot-6 and 220 pounds. The scouting reports just glow. He uses his size along the boards, crashes the net, plays strongly both ways, makes open-ice hits, sets up teammates and has a heavy shot with a quick release."
C Petr Prucha -
"An excellent skater with sharp moves and terrific puckhandling skills. One-on-one, he's a nightmare for opposing players. He has no fear and plays with great instincts."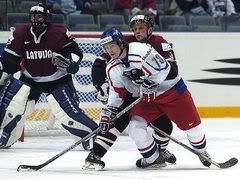 Petr Prucha
Hockey's Future has
the Rangers ranked 7th
in their "NHL Organisation Rankings". (Don't blame me, that's how they spell it.) They list the top 5 Ranger prospects as D Fedor Tyutin (8.5), G Henrik Lundqvist (7.5), G Al Montoya (8.0), RW Josef Balej (7.0), and C Jarkko Immonen (7.0).
Click here
to see the "Organizational Depth Chart", listing all of the Rangers' prospects, according to Hockey's Future.