Rangers Have Pot To Piss In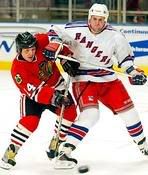 Pot
(v)
i
(n)
sucks!
...errr, I mean Ranger fans have Poti to poop on. Wait, I mean that the Rangers announced this week that they had re-signed
marshmallow salesman
defenseman Tom Poti for $2.356 million. What do I mean?
Supposedly the NHL will return to a more open style of play this season, which could make a defenseman with Poti's skills that much more valuable. When the Massachusetts-born Poti-- who the Rangers traded my then-favorite player, Mike York, in '02 to get-- entered the league with the Edmonton Oilers, Bobby Orr (his agent at the time) claimed that Poti would eventually become a Norris Trophy winner. Not unless it's the John Norris Trophy, for being as useless as a turd in a punch bowl.

Forgot about him, didn't you?
Other than Poti, I can't see any other blueliners on the Rangers' roster who have proven themselves capable of scoring 40 - 50 points in the NHL. There's always another one of my favorite players, veteran Dale Purinton, who absolutely
lit up
the ECHL during the lockout last season, tallying 3 goals and 9 assists in 25 games for the Victoria Salmon Kings before being suspended for pulling someone's hair. Nah, Purinton's probably not the guy to run the Rangers' power play, especially since he skates like Jed Ortmeyer with both ankles tied together.
The Rangers this week also re-signed Steve MacIntyre, Jozef Balej, Chad Wiseman, Jamie Lundmark, and Garth Murray, all of whom spend most or all of last season in the AHL with the Hartford Wolf Pack. MacIntyre, who shuffled between Charlotte (ECHL) and Hartford, is as big as a tree, and played better in Hartford than I would've expected after watching him stink it up during the pre-season. He at least was better than watching Jake Taylor skate around like an idiot, though I can't see MacIntyre ever being anything other than a 4th-line AHL defenseman. Balej, a Slovakian forward who was a 20-goal scorer last year in Hartford, is a guy who ought to make the Rangers roster this season; he's got a bunch of flashy one-on-one moves on offense, but he plays two ways and can also get gritty down low. Murray had all the earmarks of becoming a bruising power forward a couple of years ago, but he missed a lot of time due to an injury last year and when he made his return he didn't look like he was back on the same level yet. I'm not sure if Wiseman is even considered an NHL prospect (he doesn't even show up on Hockey Future's Rangers team page), but he's a guy who can wear an "A" and put up points at the AHL level, as well as effectively drop the gloves every once in a while.
Kovalchuk to stay in Russia?
It will never be more than an interesting rumor, but
this interview on the Russian Hockey Digest web site
seems to want to suggest that Atlanta might not be able to sign Ilya Kovalchuk, and he'll end up playing in Russia this season instead (remember, Russia's season starts a month before the NHL season does). I'm sure that Atlanta would start getting rid of some players if they found themselves without enough cap room to sign a superstar like Kovalchuk. Still, the interview points out some of the acrimony that European clubs have towards the NHL's practice of poaching their players. Now that Russia isn't a part of the new NHL - IIHF transfer agreement (and good for them, I say), things should get very interesting as Russian clubs can now fight to retain their home-bred players, or at least recover enough money to sign suitable replacement talent when one of their stars jumps to the NHL.
Kovalchuk, from the interview: "I'll stay in Russia for awhile. If I sign the contract in the NHL, than, as usually, in the beginning of September I'd go to the training camp. If not, than I'd practice at home, and even play in some Super League's team."