Rock Cats pull out nailbiter in 10, 8-7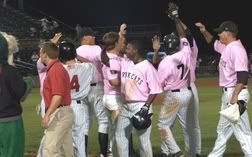 A bases-loaded, one out single by J.R. Taylor in the bottom of the 10th gave New Britain an 8-7 victory over the Erie SeaWolves tonight (or Tuesday, depending upon which way you want to look at it), as the Rock Cats won their 5th straight ballgame and moved to within 3-1/2 games of second place and a playoff spot in the Northern Division. New Britain, wearing their gawdawful pink jerseys, actually took an early 5-1 lead in this game until Erie plated 6 runs in the top of the 4th, capped by a monster 2-run homer by Juan Francia that cleared both the wall and the Stanley Tools sign in right field. Taylor's eventual game-winning hit in extra innings came against SeaWolves closer Edwin Almonte, who leads the Eastern League by a wide margin with 32 saves despite having an ERA of over 5.00. Kevin Cameron held Erie hitless over the final 2-2/3 innings to get the win, raising his won-lost record (all in relief) to 6-1 and lowering his ERA to 2.45.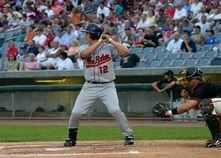 Matt Moses
A couple of months ago the Rock Cats were struggling to score runs, and it seemed like they were getting shut out every other game; since the end of May, though, the Rock Cats' team batting average has risen by about 25 points (.266 coming into tonight's game, slightly behind Binghamton's league-best .269), and a lot of players are starting to put up some good numbers on offense. Centerfielder Denard Span has been a major catalyst; lightning-fast on the basepaths, he's batting .294 with 37 runs scored in 50 games since joining New Britain in late June, and he seems to have a strong throwing arm to boot. Matt Moses, the highest-rated prospect on the team, is still a bit shaky at third, but he's driven in 24 runs in his first 33 games with the Rock Cats despite only hitting .224 during that span. Alex Romero (.309, 14 HRs, 73 RBI) collected two more hits (and walked twice) against Erie tonight, extending his hitting streak to 22 games, and he's been on base in one way or another in 37 straight games. Danny Matienzo still leads the team with 19 HRs and 76 RBI, even though he has yet to hit one out this month. Luis Jiminez had yet another timely double in the 10th inning tonight (his second double of the game), and is hitting .282 with 14 HRs and 57 RBI on the season. Shortstop J.R. Taylor has only been with the team 16 games but can throw the leather around and is hitting .302, while Doug Deeds is hitting .300, with 15 homers and 68 RBI. Deeds is becoming a bit of a fan favorite, partly because the PA announcer, Don Steele, is able to draw his name out to infinity whenever Deeds is the next hitter ("Now batting, the right fielder, number 9, Doug Deeeeeeeeeeeeeeeedsssss!"). Sometimes they'll even spell his name "Deeeeeeeeds" on the video scoreboard, though I'd still like to hear them play AC/DC's "Dirty Deeds" as he walks to the plate, goddamnit.
The Rock Cats gave away t-shirts at tonight's game that were made to look like Deeds' jersey, with "Rock Cats" and his #9 on the front, and by chance it was the first time in probably four years that we got to the game early enough to still get the giveaway (the Rock Cats have become so stingy with their promotions, usually only making a thousand or so, that the giveaway item is usually gone before the first group of fans lined up outside has even made it through the gate). On top of that, I got two more foul balls. I'm just a good luck magnet, I guess.