Wolf Pack now 2-0 in the pre-season
Steve MacIntyre (in green): "Hulk like puck! Puck Hulk's friend!"
Chris Rutsch photo
Bolstered by a goal from "Captain Caveman", Steve MacIntyre, the Hartford Wolf Pack managed to beat the Bridgeport Sound Tigers in a pre-season game in Simsbury tonight, 6-5 after an overtime shoot-out, despite a very shaky performance by goalie Chris Holt. It was Hartford's second victory of the pre-season, having beaten the Providence Bruins 8-0 the night before. Holt, who is slated to be the back-up to Al Montoya in Hartford this season, had a miserable game while handling the puck like it was a wet bar of soap, as goals trickled in beneath his pads, off his glove, and even rebounding straight back off his stick and into the net once. Despite all of his mishaps, Holt remained in net the entire game, keeping tonight's second-string goalie, Michael Mole, firmly rooted on the bench... which was too bad. "Mike Mole in goal"-- who wouldn't want to see that?
I was keeping an eye on two of the Rangers' younger defensive prospects, Ivan Baranka and Jonathan Paiement, as they skated in tonight's match against the Sound Tigers, but the two new players who stood out the most were Jerramie Domish and Jay LaTulippe. LaTulippe, a smallish center from Clarkson, scored a goal and showed himself to be a very quick and agile skater, while Domish, a 5'9" defenseman who spent time in both the ECHL and the AHL as a rookie last year, played a very solid, gritty game offensively and defensively. The best it will probably get either of them is a bus ticket to Charlotte and the ECHL Checkers, but they played well nevertheless.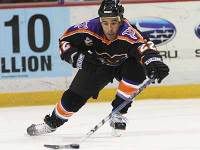 Tie Domish, Coffee and a Domish, Nostra-Domish... take your pick
Peter Worrell was in the house, so to speak, though he watched the game from the stands as a scratch. Also scratched were Josef Balej, Garth Murray, Al Montoya, Bryce Lampman, and pretty much all of the better players who will be on the Pack roster this year (except for Alexandre Giroux, who played and scored a goal in regulation and also during the shoot-out).