End of the line for the Russian Rocket?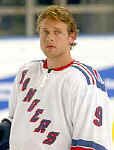 Pavel Bure
According to several
reports
, Pavel Bure is about to be named General Manager of the Russian Olympic hockey team, in effect signaling his retirement from playing professional hockey. The following was taken from an
interview
with Bure in Sport Express:
If you are designated to be the General Manager of the Olympic team, will this signal the end of your career as a player?
I won't be able to say for sure until after I complete a forthcoming medical examination in North America (
already scheduled for November
). But if I had to take a guess based on the most recent X-rays, the diagnosis will not be a positive one. Nevertheless, I still hope that I have a chance to play again.
When did you learn of this proposal to become General Manager?
Apparently after learning about the X-rays, the President of the Russian Hockey Federation, Alexander Steblin, figured that I would not be able to join Team Russian at the Olympics in Torino as a player. And so, I was offered the post of General Manager.
Have you given a preliminary agreement?
I have been given the projected agreement, which I will study together with the lawyers and my advisers. I think everything will be settled within the next few days.
If you sign the agreement, what will be your plans on how to build the team?
Thus far, I have not completely thought this out. I can tell you that as soon as everything is in place, I will be able to describe my plans. Although I already have some ideas, nevertheless.
click here for Pavel Bure's player profile on tsn.ca
UPDATE:
Here's a really awesome
Pavel Bure highlight reel
from when he was with the Canucks, which I found thanks to
Tom Benjamin's NHL Weblog
.