Lowell 3, Hartford 2, shouting "Brendl sucks" 29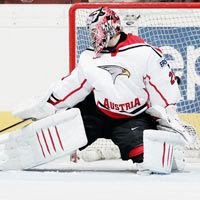 Bernd Bruckler
I didn't know a thing about goalie
Bernd Bruckler
before tonight's game, only that the Wolf Pack had just signed him to a PTO earlier in the week, when Kevin Weekes got injured in New York and Al Montoya went to the Rangers to take his place. Bruckler is an Austrian who spent a year in the USHL (American juniors) before playing 4 years with the University of Wisconsin, and he looked really sharp tonight, despite coming out on the losing end of things against Lowell, 3-2. Bruckler looked very quick and agile, and seemed equally adept at stopping shots with either his stick or his glove, either when standing up or while down on the ice. Maybe it'll be Chris Holt (who can't stop any shot above his waist, it seems) who will be sent away when Montoya comes back, but I doubt it. Hopefully they at least find room for Bruckler in Charlotte.
The Wolf Pack took a 2-0 lead in the first period on a neat short-handed goal (set up by Jarkko Immonen) off a wicked wrist shot by Daniel Sparre, and then a goal by Immonen as he stood just outside the goal crease, flipping the puck up and over Vitaly Kolesnik (the Lock Monster goalie) from point-blank range.
Fedor Fedorov got a ton of ice time, even late in the game on the penalty kill, and assisted on Immonen's goal to earn the 3rd star of the game, while Bruckler was rewarded with the 2nd star (the
official score sheet
gives the 2nd star to Boychuk, though. Whatever, it hardly matters).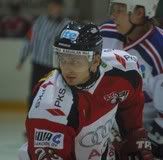 Pavel Brendl
If anyone is wondering where Pavel Brendl has ended up (and probably nobody is)-- well, he's playing for Lowell, after
stinking it up
in training camp for Carolina and blowing a chance at a million-dollar contract. Brendl, if you'll recall, was the Rangers' 1st round pick in '99 (the 4th player taken overall), and later went to Philadelphia in the Lindros trade. It was fun to boo Brendl for a while, whenever he came back to Hartford as a member of the Phantoms (the Flyers' AHL affiliate), but since then his career has gone downhill faster than Rosie O'Donnell on rollerskates, and heckling Brendl now is about the same as heckling the Special Olympics. Brendl ended up bouncing around from one "B"-league European team to another (4 or 5 in all, I think) during the lockout last year, even flunking at least one physical along the way.
"Red and Black Hockey" had
this appraisal
of Brendl's effort during training camp:
Brendl is absolutely HORRIBLE. I focused on him for a little while, and I watched him hanging out by the Florida blue line, while Florida was down in our end having an unofficial powerplay. I'm not kidding. He was just STANDING there, 100 feet away from the action. He did this on two different occasions. He's a bum. A total bum. Oodles of raw talent, but no drive. We've been overly patient with this guy, and he hasn't paid dividends. We need to relegate him to Lowell, or maybe even release him outright.
Well, he ended up in Lowell, where so far in two games he has a goal and an assist with an "even" plus/minus, which are not bad numbers. There must be a really good Krispy Kreme shop in Lowell, or something.