Purinton returns, Wolf Pack lose 2-1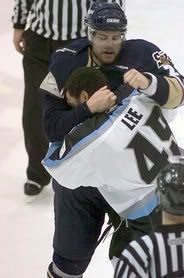 Tonight marked the return to the ice of Dale Purinton, just a few days after being handed a 10-game suspension by the NHL for viciously poking Colton Orr (who sucks anyway-- sorry, GoonBlog) in the eye during a Rangers - Bruins pre-season game. Nearly five seasons have passed since Purinton last played in the AHL (racking up 886 penalty minutes in 135 games for the Wolf Pack between '97 and '01), and while he didn't poke anyone in the eye or pull anyone's hair in the game against Springfield tonight, he didn't do much of anything else, either. Dale skated horribly, falling down a couple of times (as if that's anything new, I guess), misplayed the puck a few times (once trying to put a slap shot on a floating puck that team-mate Colby Genoway was already lining up for a shot), and didn't really hit anyone hard all night. The one good thing Dale managed was when, late in the third period, he swept away a loose puck that had trickled behind goalie Chris Holt and was laying all alone in the crease. The Wolf Pack lost to Nick "Two Teeth" Tarnasky and the Springfield Falcons anyway, 2-1.
Fedor Fedorov was voted the second star of the game again, though he didn't really deserve it (no points, -1), and he was even completely dumped over the boards into the Springfield bench on one of his first shifts of the game, which I'd think is a little embarassing. Chris Holt started out woefully in goal, giving up 2 relatively weak goals on the first three Springfield shots, but obviously played well enough after that.
Lettuce entertain you
It turns out that the Wolf Pack's new "
Let Us Entertain You
" slogan is named after a crappy Robbie Williams song --hey, how was I supposed to know? What I do know is that I've been to four games so far this season (two pre-season games and both regular season games so far), and I've yet to see a single fight, which is someone else's idea of entertainment I guess.
Speaking of fighters and fighting, word is spreading quickly that Peter Worrell hasn't played in any games for the Pack yet this year because he's got a ton of weight to lose, and that as soon as he's back into playing shape he'll be ticketed for the Rangers anyway.