Some talk of NHL - IIHF series

The IIHF and the NHL have reached a "fundamental agreement" about an annual play-off between the winner of the Stanley Cup and the winner of the European Champions Cup, according to a
report
on the web site of the Finnish hockey team, Karpat.
Karpat is the Finnish participant in the
second European Champions Cup
, taking place in St. Petersburg, Russia, January 5-8, 2006.
The report quotes Szymon Szemberg, the press agent for the Int'l Ice Hockey Federation, as saying to Finnish journalists, "It is difficult to say specifically when this match will take place, but it is already assured that the idea of conducting a yearly match between the championship teams of two continents is a close as ever to being realized."
The idea of an NHL - IIHF playoff has been tossed around before, being met with understandable skepticism (as in
this article
from three years ago), but obviously the situation is different now. The mass of NHL players who went over to Europe during the lockout last year removed some of the barriers of understanding between North American and European hockey fans, while the NHL's desire to market the league in new ways after the end of the lockout will provide some impetus for an NHL/European playoff also.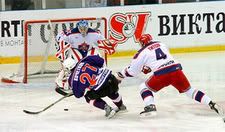 I have yet to find any reaction in the North American media to this admittedly low-level announcement, possibly hinting at a continued Canadian/American disinterest in the idea. Additionally, an article in
Sport Express
over in Russia expresses some legitimate concerns about such a playoff. For instance, if Dynamo Moscow were to win the European Champions Cup and become the European representative in the proposed series, would they be allowed to play, considering that Russia didn't ratify the NHL - IIHF transfer agreement? Also, this wouldn't be like the Olympics, when each country gets to compete with all of their best players on hand. Asking a European team to represent its homeland against an NHL team that could have some of its own countrymen on its roster seems like an innacurate matchup to me. One could also wonder how the European players in the NHL would feel if they had to square off in a challenge match against their former club from their home country.
UPDATE 10/23/05 -
10/23/05
This quote in Sport Express today, from IIHF President Rene Fasel, confirms that an NHL - IIHL playoff is being discussed:
"I can confirm at this time that work on organizing a match between the winner of the European Champions Cup and the winner of the Stanley Cup is moving forward. As it is known, this idea is not new, and has come up repeatedly. But now the situation in the world of hockey has changed, and it is easy to see the possibilities of conducting a match like this. In November there is a meeting planned between me and commissioner Gary Bettman, and this proposal will be on the agenda."