Alexandre Giroux nets hat trick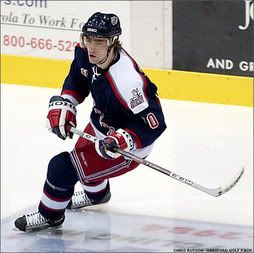 Chris Rutsch/HWP photo
Not only did the Wolf Pack end their own 4-game losing streak at home on Friday night,
beating
the Sound Tigers 6-4, they put an end to Bridgeport's 6-game win streak as well. The win also gives the Wolf Pack an early 2-0 advantage in the annual battle for the so-called
Geico Cup
, which no one has ever actually seen in person before, or even has any idea what the stupid thing is, anyway.
As the score would suggest, it was a very entertaining game, if not very well-played. Jeff Hamilton scored for Bridgeport in his second game since returning back to the States after playing for a little while over in Russia. Hamilton's goal in the second period chased Wolf Pack goalie Chris Holt, who was miserable again; in fact, I can only remember Holt having one decent game all year, although he does have two wins so far, which beats the hell out of me.
Alexandre Giroux, now on a 7-game point-scoring streak, notched a hat trick, of which two of the goals were assisted on by Jeff Taffe, including a shorthanded tally. Bruce Graham scored two goals for the Wolf Pack, his first goals as a pro. Nigel Dawes scored the other goal for Hartford, on a laser of a wrist shot at the end of a nifty breakaway.
Playing Bridgeport used to be a lot more intimidating when they had goons like Graham Belak and
Eric Godard
on their roster, if not a few players with some actual talent. I mean, their team captain this year is Kevin Colley, who is the practical embodiment of the mediocre career minor leaguer (though I should probably admit that I own a Kevin Colley jersey, if only because he was born in Connecticut and his dad, Tom Colley, had his number retired by the New Haven Nighthawks). And, I don't think the Sound Tigers have a single player on their team this year who can fight, except that they recently signed Jeff State, who fights to stay upright on his skates all the time.