Demolishing of New Haven Coliseum begins
New Haven Register photo
Earlier this week, work began on the demolition of the New Haven (Ct.) Coliseum, which for three decades was home to several AHL teams, including the New Haven Nighthawks and the Beast of New Haven, as well as the New Haven Knights of the UHL.
The Coliseum was where I went to my first AHL game, which would've been around 1988 to see the New Haven Nighthawks. I remember buying a plastic souvenir Nighthawks hockey stick, which I kept in the back window of my car until the sunlight warped it. I was still going to about five New Haven Knights games each year, from Opening Night in 2000 until the building was shuttered in 2002.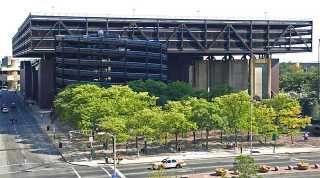 G. Fox photo
New Haven has a rich
75-year history
of pro hockey, and the New Haven Coliseum was a big part of that. It wasn't the prettiest arena in the world-- there were
huge concrete pillars
at the corners instead of seats and immense, drab-looking ductwork everywhere you looked, plus the first row of seats at one end of the ice was practically above the glass, about 8 feet in the air. The box office was outside (which sucked when you had to wait in line during the winter), the escalator to the parking garage upstairs almost never worked, and the parking garage with its single corkscrew-shaped exit ramp was usually a bitch to get out of.
New Haven Knights
Still, the building wasn't without some charm, and New Haven hockey fans are some of the proudest, fiercest, and rowdiest fans you'll find anywhere. It stinks that there isn't an AHL team in New Haven, but that might have as much to do with the current economics of the AHL-- which has teams increasingly being placed in larger markets while abandoning the smaller cities like those in Quebec and the Maritime Provinces-- as it does with the loss of the New Haven Coliseum.