Fedor Fedorov rumor mill continues to grind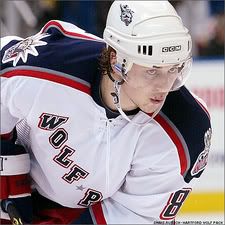 Chris Rutsch photo
The entire New York Rangers team, led by Jaromir Jagr, joined in the celebration that preceeded Fedor Fedorov's
scuffle
in a Tampa Bay nightclub, according to an anonymous source in
Sport Express
:
Two weeks ago, after a game between Tampa Bay and the Rangers, the players on the New York club left to celebrate their victory in a night club, where Rangers forward Fedor Fedorov was beaten. The version that was given in the Florida press of what had occurred was that one of the club's employees attacked Fedorov at the entrance to the club, after which Fedorov, with injuries to his cheekbone and a broken nose, left the club after refusing medical aid and without filing any charges.

Our source in the NHL, which asked to remain anonymous, gave some more details about what had occured. It turns out that it wasn't just a few Rangers players, led by Fedorov, who were on hand to celebrate the victory over the reigning Stanley Cup champions, but rather the entire team. Furthermore, the trip to the club was co-ordinated by a group of Czech players, led by Jaromir Jagr.

The events were as follows: Fedorov left the group of players by himself, and upon exiting the club was suddenly struck a severe blow from behind by one of the visitors to the club (Fedorov's nose was not broken, however). The other Rangers players, being some distance away, were not able to assist Fedorov in the scuffle. No other patrons of the club were involved in the assault, as was reported by the Florida press.

Several days ago a detective in charge of the investigation into the assault was able to locate the person who struck Fedorov, according to our information. In spite of what was reported in the press, he is not an employee of the night club. However, Fedor Fedorov so far has no intentions of continuing this matter, and refuses to comment. The remaining Rangers players have also agreed not to discuss their activities in the night club, except for a few details authorized to be in the press by acting captain Jaromir Jagr. Fedorov is now playing with the Rangers' farm team in Hartford.
Sergei Fedorov
In the same edition of Sport Express, Mighty Ducks GM Brian Burke gives an
interview
in which he denies any personal feelings were involved with him trading Sergei Fedorov to Columbus:
When Sergei Fedorov headed for the free agent market in 2003, Brian Burke, then general manager of the Vancouver Canucks, responded in this manner to a question about acquiring Sergei so that he might join his younger brother on the Canucks: "We already have a Fedorov, and that's one Fedorov too many." SE: So this means, you continue to assert that your dissatisfaction with Fedor Fedorov is in no way connected with your dislike-- Burke: (interrupts) No, no, no, nonsense! SE: This means, there is no personal vendetta? Burke: There can be no argument about this. I have nothing to say about Sergei but kind words. He is a good fellow, and a good hockey player."