Fedor Fedorov speaks out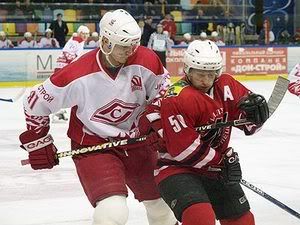 Fedor Fedorov (#81) playing for Spartak last year
It's been an interesting past few days for New York Rangers forward Fedor Fedorov. First, he had his nose broken in a
fight
late last week outside a nightclub in Tampa. Then, he saw his older brother Sergei get
traded
from Anaheim to Columbus in a suprising move a few days later.
Fedor talked about all of this-- a little bit about the fight, but mostly about his brother's trade-- in an interview that ran yesterday in
Sport Express
:
Your family has been in a stretch of bad news recently. First, after a game against Tampa Bay, in a night club in Florida, you fell into a ticklish situation. Then several days later, your brother is traded.
Let's talk about the incident in Tampa later. As far as my brother is concerned, I have no doubt that he has handled it well, especially considering that it happened so quickly.
Can you relate the events leading up to the trade back to us?
It wasn't even twenty-four hours before the official declaration of the trade that I first learned from someone who was well-informed and familiar that any minute now a trade would take place. Naturally, I called Sergei. He didn't believe me; he said that everything was normal, and it couldn't be. Nevertheless, later on Tuesday the trade did happen.
So up to the very end Sergei didn't believe it was possible that he would be traded?
I think, yes.
Was the trade a suprise to you?
Quite the opposite-- I figured it would happen. The fact is that Brian Burke is now the general manager of Anaheim. Let me say that Burke himself, in all the years with Vancouver, did not contribute with my development in this stage of my career. It also seems that he has a preconceived notion of players with the name "Fedorov"...
(Probably a reference to Burke's "We already have a Fedorov, and that's one Fedorov too many" quote while Burke was in Vancouver)
In a recent Sport Express interview with Burke, he expressed his admiration for Sergei Fedorov and asked not to compare the two of you.
Of course-- this is America. Here they show a happy face to the public and pretend to only say good things about each other.
Will the trade to Columbus prove fortunate to Sergei's career?
I think my brother has already proven himself in his 15 years in the NHL, and he has earned almost every possible award in North American hockey. In general, I am glad that Sergei is with Columbus. There is a contrast to Anaheim in the caliber of their general manager, Doug MacLean. It was with him that my brother began his career in Detroit, when MacLean was an assistant coach. Additionally, it is very important to note that the Columbus head coach is Gerard Gallant, who played alongside Sergei on that same Detroit team. I know from my own experience that it is important to have a complete trust with your coach.
How well did your father (Victor, a well-established hockey coach in Russia) take the news of Sergei's trade?
Certainly he is the man who brought us up, put us on our own two feet, and made us hockey players. He is in agreement with the fact that the trade to Columbus is only for the best.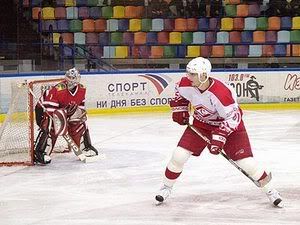 Now, let's talk about what happened to you last week, after a victory against Tampa Bay. There are rumors flying about, whether you tangled with security guards, or other guests...
The local press fanned it from a fly into an the elephant. Yes, in that evening I was with several teammates, I had only just left. I won't discuss what the disturbance was about, although the incident did occur.
It was written that your nose was broken. How is it now?
It is already fixed.
Were any of your Russian teammates nearby during the course of the incident?
There were none, only Americans. I can't recall their names.
How did your team officials on the Rangers see this?
They have been supportive. Indeed, I acted as well as I could have.
One last question. Why recently have you been placed in reserve on the Rangers? Is your lack of playing time with the team related to the incident in Florida?
No, there is no problem, only that the team right now is playing well and winning just as it is. As you know, you do not change a winning team.