Fedor Fedorov would return to Russia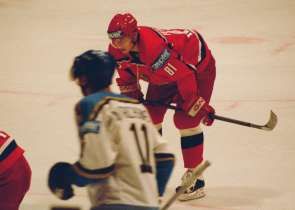 Fedorov, #81
According to a report that ran earlier today in
Sport Express
as well as on the Metallurg Magnitogorsk
team web site
, current New York Rangers forward Fedor Fedorov would likely return to Russia to play for Metallurg if the Rangers were to try to send him down to the AHL.
Metallurg's General Director, Gennady Velichkin, is quoted as saying:
"We will retain our rights to Fedor Fedorov. We have an agreement with the player that if he does not succeed in remaining on the Rangers roster, then he will not leave for the farm club but will instead return to Metallurg."
Metallurg currently sits in first place in the Russian Super League, with a 16-3-3 record.
After Fedorov scored 5 points (1 g, 4 a) in a 5-game tryout with the Hartford Wolf Pack last month, the Rangers signed him as a free agent to a one-way NHL contract, which allows Fedorov to refuse a demotion to the minors. After three games with the Rangers, Fedorov has no points (with only 2 shots on goal) and six penalty minutes, while averaging a bit less than 10 minutes of ice time per game, and it appears that the Rangers' gamble in bringing him to New York will most likely end as a bust. Even beyond the lousy statistics, reports on Fedorov's play while he's been with New York have hardly been glowing, which you can see when you read far enough along
this post
and
this post
on the Hockey Rodent web site.
Even the comments posted on the Metallurg web site (at the bottom of the article I linked to above) in response to Fedorov's possible arrival are less than enthusiastic, leading one fan to half-heartedly defend Fedorov this way: "In spite of his human qualities, as a player he's not very bad."
Meanwhile, Josef Balej, the player the Rangers traded to Vancouver for Fedor Fedorov, has 3 goals and 3 assists after 9 games with the Canucks' AHL farm team, the Manitoba Moose.