Pack stomp out Rats, 7-2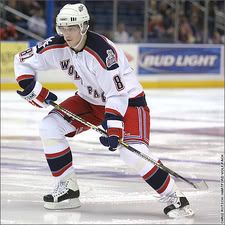 Fedor Fedorov (Rutsch photo)
The Hartford Wolf Pack (9-6-1-2, 3rd place), who've not been playing very well of late, got the break they needed on Wednesday night as they hosted the New Jersey Devils' farm club, the woeful Albany River Rats (5-12-0-1, last place). Some very solid goaltending by Robert Gherson and physical play by the Pack led to a
7-2
blowout victory before a sparse weeknight crowd of barely more than 3000 (everyone else was probably saving up for the big Ken Gernander bobble head night coming up this Saturday).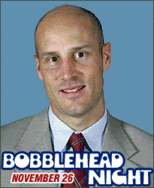 Get there early
Gherson, who had been in camp with the Wolf Pack during the pre-season, had just signed a try-out contract earlier in the week as the Pack chose to send the struggling Chris "Five-" Holt (© PackAttack.org) down to Charlotte.
The game didn't start out so well, with the Wolf Pack stuck in their own end for much of the first period and being outshot 12-2 to start the game. Only the excellent netminding of Gherson kept Hartford in the game, and the first period ended all tied at 1-1. The Wolf Pack then scored 4 goals in a span of 3 minutes in the second period as the game quickly turned into a rout.
Ranger fans, as well as some beat writers and web site pundits, have been clamoring for defenseman Thomas Pöck to be brought up to New York, and I can say that his output while in Hartford has hardly been worth mentioning before tonight's game, when he was selected as the #1 star of the game. Pöck rang up 2 goals and an assist against the River Rats, and both goals were great to watch-- the first one coming on a nifty double stick-fake and deke move, the second on a booming slapshot from outside the right face-off circle during the power play. Pöck's assist came on a power play goal by Nigel Dawes, with Pöck again faking a slap shot as he has done before this season, going into a full wind-up, and then passing the puck sideways instead.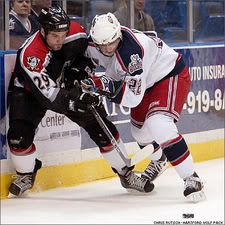 Pöck #22 (Rutsch photo)
Nigel Dawes lead the scoring with a 4-point game (2 goals, 2 assists), and the P.A. guy even brought out Jason Dawe's old theme song, Trio's "Da Da Da"-- you probably know it as the song from the Volkswagen commercials-- to highlight the occasion. In keeping with the "old theme song" theme (I
theme
seem to be repeating myself), Tony Tuzzulino's former signature tune, "Mambo Italiano", was given to Dan Girardi, who scored his first AHL goal this game and has looked great since being called up from Charlotte a short while ago. Alexandre Giroux extended his point-scoring streak to 9 games with a goal and an assist (Giroux has 9 goals and 4 assists during the streak), and Jeff Taffe added three assists.
There were no less than
six
fights in this game, including an outbreak of five scuffles practially all at once during a one-minute span of the second period, once the Pack had put the game just about out of reach. The festivities reached a peak after Albany's David "Kelly" Clarkson leveled David Liffiton in an open-ice hit, drawing a 5-minute major for charging. Fedor Fedorov then beat the crap out of Clarkson, though Clarkson did land one good blow after both players lost their footing and fell to the ice. Fedorov not only had 2 assists on the game (giving him 9 points in 7 games with the Pack this year) and was +2, but added 3 minor penalties, a major, and a game misconduct. All told, three players drew game misconduct penalties and were ejected.
Gherson ended up with 48 saves on 50 shots (3 saves shy of the team record set by Al Montoya earlier in the season), and looked brilliant the entire night. The River Rats kept Ari Ahonen in net the whole way, despite the 7 goals. Ahonen was once a top goalie prospect, or so I remember, but his AHL stats this year are just awful-- a 4.05 GAA and .888 sv pct to go with a 2-5 record, and that's
before
this game is figured in.
River Rats- still in the cellar
Hey, that's the second time this year that I've used that Ratt album cover for a joke. Pretty good, eh?