P.J. Stock, Mild-Mannered Reporter
When I sat down to watch the Blackhawks - Red Wings game on TV tonight, I was mildly amused to see that former New York Ranger P.J. Stock, a member of the Hartford Wolf Pack's Calder Cup-winning team in 2000, is now an in-studio analyst for OLN's NHL broadcasts.
Stock had been forced to retire this season because of injuries, and apparently decided to
try his hand
at announcing a couple of months ago. I wasn't able to take a picture of the TV screen while Stock was on camera, like the guy from
Dipshit.com
does
whenever his face is on the tube
, so you'll have to settle for this photo of P.J. beating up Kelly Buchberger instead: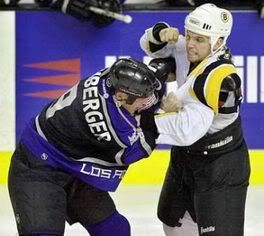 As for P.J. Stock the announcer, I can't say he's any better or worse than any other former athlete who's now on television. Bill Clement was given one of the worst throw-to lines when introducing Stock, however: "Looks like the Maple Leafs will have to take stock in some of their players... and here with more on that is our own Stock, P.J. Stock", or something like that. I couldn't tell if what I heard right after that were groans coming from the rest of the people in the studio, or the noises that Keith Jones' chair makes due to the weight of his tremendously large head.
Blackhawks' head coach Trent Yawney was interviewed during the second intermission, which made me feel tired for some reason.