Those Stubby Penguins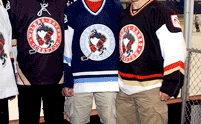 It's just wrong
Last night at the Harford Wolf Pack - Wilkes-Barre/Scranton Penguins game I saw more stubby jerseys in one place than I had seen in my entire life, except for maybe every other time that the W-B/S Booster Club (a.k.a. The Travelling Wilkes-Barries) have been in Hartford. Since most of the WBSBC members are either about Gordie Howe's age or Eddie Gaedel's height (or both), they buy their jerseys really small-- and what they end up with for their troubles, more often than not, is a silly-looking jersey that barely reaches past their midriff and has sleeves that are longer than the hem.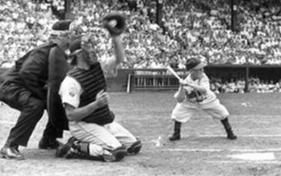 The W-B/S Booster Club annual softball game
Now, I'd rather not mock* any group of people that spends their entertainment money on hockey tickets and hockey jerseys. There's
been
plenty
of
that
type of
discussion
lately (or
not
), and I'd like to avoid added to the pile. What I would like to do, while it's fresh in my mind (seeing as the Stubby Penguins were just in town yesterday), is gently point out to people that
it's a hockey jersey
. It would be nice if it looked like
a hockey player might be able to wear it
. When you wear a hockey jersey like a regular piece of clothing (i.e. without pads underneath), it's supposed to fit oversized, and not end up hanging above your crotchline like a sweatshirt you'd buy at Old Navy. Otherwise, when you put on your jersey, you'll end up looking somewhat like The Grinch...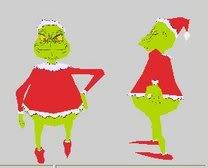 ...and that's not funny!
*at least not in this particular sentence