Holt everything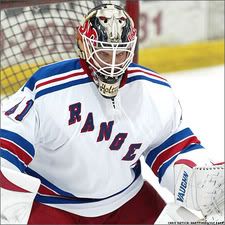 Chris Holt (Rutsch photo)
Chris "Five-" Holt saw his first-ever NHL action tonight when he was inserted in relief of Henrik Lundqvist for the final 8 minutes of a
lopsided Rangers 5-1 loss
to the Washington Capitals, with Holt somehow getting in the way of every shot he faced for the rest of the night. Rumor has it that Holt, who found himself on the losing end of more than a
few
lopsided
scores
while in Hartford and Charlotte this year, saw the 5-0 deficit on the scoreboard and instinctively left the bench to take to the ice, much in the same way a newborn baby sea turtle instinctively knows to return to its natural ocean habitat within minutes of being born.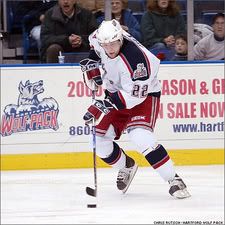 Thomas Pöck (Rutsch photo)
Meanwhile, The Hartford Wolf Pack won tonight in Portland,
5-4
, on a goal by Thomas Pöck 37 seconds into overtime. It was the Wolf Pack's first win in overtime this year, after five previous OT losses (0-2-3). Portland has now lost 4 of their last 5, allowing the Wolf Pack to creep within 4 points of the second-place Pirates in the Atlantic Division standings. Dwight Helminen scored two goals in the game for Hartford.