Kasparminus Explains It All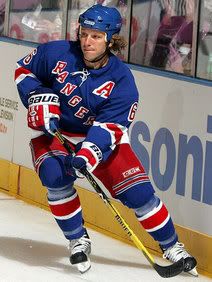 Accompanying the recent Jagr interview in Sport Express (see the post below) were some comments from Darius Kasparaitis, who was a teammate of Jagr's earlier in his career in Pittsburgh. Both Kasparaitis and Jagr are alternate captains with the Rangers this season, and both played in the Russian Super League last season (Kasparaitis with Ak Bars, Jagr with Avangard). I decided afterwards to make Kasparaitis' comments their own seperate post because A) Kasparaitis is one of the few Lithuanian-born players in the NHL (Dainius Zubrus, born in the same town as Kasparaitis, is another) and B) No Lithuanians have caused Fedor Fedorov to get punched in the face yet this year, unlike the Czechs.
Kasparaitis:
"It's nice for us to refute the predictions. No one thought that we would play like this. The main difference now from the past is the work ethic of this team. I don't think that those previous Rangers squads stayed as much with their training. We've had excellent play from both our goalkeepers. In addition, the team is very disciplined, and everyone carries out the tasks they are given. Before, there were many star players, and each did as he wanted. Now we stick together, and we take a serious approach to our work."
Sport Express:
"But isn't the presence of a star player like Jagr important to this success?"
Kaspairitis:
"Certainly, there's no one who wouldn't want to have one of the points leaders on their team. Yagr, actually, is half of our team. When he doesn't score, it is very difficult for us to win. This is the same Jagr that I played with for Pittsburgh. In particular, like now as it was then, all the responsibility lies with him. If the team looks bad, he will be the first one to hear about it."