Wolf Pack beat Sound Tigers, 5-3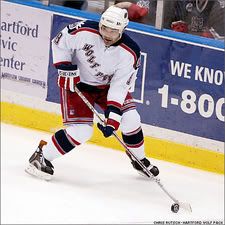 Nigel Dawes (C. Rutsch photo)
Tonight's game marked the Hartford Wolf Pack's first visit to the
Corruption Dome
(aka The Arena at Harbor Yard) this season, and the Pack made the visit a fruitful one, pulling out a
5-3 victory
over the Bridgeport Sound Tigers and padding their lead in this season's totally meaningless
Geico Cup
race even further.
Zamboni Dave
wasn't there (and his picture's been taken off the Sound Tiger web site as well), though there were plenty of newly added attractions to better entertain the usual crowd of a few hundred lifeless Sound Tigers fans in attendance. Before the player introductions, the Sound Tigers ran an indecipherable computer-animated video clip that showed the Bridgeport mascot, Storm, killing something that looked like
Eddie
from Iron Maiden in a sea battle fought on pirate ships. What that has to do with anything hockey-related, I don't know, but it was probably more interesting than the Robbie Williams "Let Me Entertain You" song that the Wolf Pack play before the start of their home games. What wasn't better was the two DJ's from the nearby dipshit rock station, WPLR, who came out in Zamboni Dave's place during the intermissions, whipping the crowd into a frenzy with proclamations like, "Don't forget to tune in to WPLR tomorrow morning, when Ct. Attorney General Richard Blumenthal will be on hand in the studio to answer your questions!"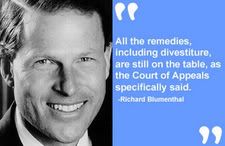 Yeah, okay. Sounds like fun.
The Wolf Pack had to come from behind to win this one, with three unanswered goals in the third period. Bridgeport's Jeff Hamilton assisted on the first two Sound Tiger goals and scored the third goal himself, as Robert Gherson started out a bit unsteadily in goal for the Pack but then obviously settled down enough to get the win. Nigel Dawes and Dwight Helminen each scored two goals for Hartford-- Helminen's second straight game with two goals-- and Martin "Wooden Indian" Grenier had the other goal for the Pack.
Hartford's final goal came with less than a minute left in the game on a play that I haven't really seen before; Bridgeport was on a power play and, being down 4-3 at the time, had pulled goalie Wade Dubielewicz in order to have two extra skaters. Instead, Dwight Helminen broke loose with the puck and, as he skated in alone towards the empty net, the Sound Tigers' Rob Collins threw his stick at Helminen's skates to thwart the sure goal (which was awarded to Helminen anyway).
Some other useless bits of information: Bridgeport uses two actual Zambonis to clean their ice, instead of the Olympia-brand resurfacing machines that are used at just about every other hockey arena I've been to. I'd never even noticed that what most people generically call "Zambonis" are actually Olympias, until someone pointed it out to me earlier this year. What a gyp!
Also, when Wade Dubielewicz made a nice save early in the game, they played Frank Sinatra singing "Doobie-doobie-doo" over the PA, which was pretty funny at the time.