Wolf Pack clip Falcons, 4-3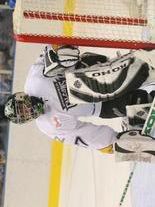 Springfield goalie Gerald Coleman
The Harford Wolf Pack
beat
the Springfield Falcons earlier tonight in Springfield, 4-3 after an overtime shootout. Nigel Dawes scored on both of his shootout attempts-- unlike the NHL, the AHL keeps the same original rotation of players for any extra rounds during a shootout-- while Joe Rullier, Dwight Helminen (his 5th goal in 3 games), and former Falcon Jeff Taffe scored in regulation for the Pack.
Falcons' winger Marek Kvapil had the game on his stick with a little bit less than a minute left (as I recall) in overtime, breaking in alone for a clean scoring opportunity, but instead of trying to deke or make some sort of move, Kvapil just skated straight in and took a fairly weak slap shot from outside the slot which was stopped easily. On the ensuing Pack rush up-ice, Springfield defenseman Todd Rohloff blatantly pulled down Jarkko Immonen from behind while Immonen was lined up with his own scoring chance, but nothing was called.
Ty Conklin picked up the win in net for the Wolf Pack, in the first game of a two game
conditioning stint
since being loaned to Hartford by the Edmonton Oilers earlier in the week. Conklin hadn't seen game action in over a month due to an injury, and his play this season before being injured was more than suspect to begin with (
this post
from Covered In Oil gives an Alberta-eye-view of the situation). I can't say that Conklin was all that impressive; he definitely showed NHL-level reflexes and athleticism tonight compared to the average first-year-pro AHL netminder, but he was also easily befuddled by traffic, losing track of the puck while it was loose in front of him too many times. He also seemed to commit to the shooter's first move quite a lot, and was easily faked out of the net twice during tonight's shootout. How much of this is rust from the long layoff, I'm not sure.
Springfield's goalie, Gerald Coleman, is another story unto himself. Coleman gained
some notice
earlier this season when he became the first alum of the "NHL Diversity program" (whatever that is) to play in an NHL game, and at 6'-4" and 190 pounds is also about the skinniest goalie I've ever seen. Coleman is so skinny that when he leans forward in net with his hands on his knees, the name and number on his jersey become wider than his back, like a 10-year-old kid wearing an adult size jersey. Coleman also has some weird 70's-ish type cartoon superhero graphics on his helmet, which I haven't quite figured out yet.
Tonight's game was sorta sloppy and wasn't played very well at all, so I took some extra time to check out the newly-renovated MassRetardation Center that the Falcons play in. The curiously-worded "We Have To Be Better, We Live Here" ad for some insurance company or plumbing supply store that I had noticed during the pre-season (which became the title of an
earlier post
of mine) has been taken down, for some reason. The Falcons are starting to put to better use the new video scoreboard that hangs perilously low above center ice, showing (among other things) a "tool race" during a break in the action, where some cartoon tools-- a saw, a power drill, and a hammer-- race each other as part of a contest sponsored by a local Ace Hardware store. This was different from the "tool race" that went on in Section 1 between a couple of retreads who amused themselves by shouting out stupid stuff all night.
Meanwhile, down in Charlotte, the Checkers also won in overtime,
5-4
against South Carolina. While Ty Conlkin is holding down a roster spot this weekend for the Wolf Pack, Al Montoya is on his own conditioning stint in Charlotte, picking up the win in net for the Checkers.