Wolf Pack tear apart Sound Tigers, 6-2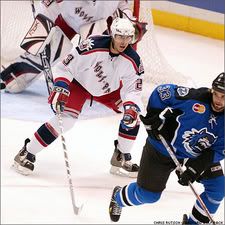 Chris Rutsch/HWP photo
The Hartford Wolf Pack's
6-2 victory
Saturday night over the visitng Bridgeport Sound Tigers was one of the most lopsided AHL games I've ever seen. By the end of the second period, the Wolf Pack had taken a 5-1 lead on the Sound Tigers, outshooting Bridgeport 39-7, and had also cleaned house by winning two fights (including Martin Grenier putting Doug Christiansen on the seat of his pants with one huge punch).
No doubt the clamoring for Thomas Pöck to be brought up to the Rangers will continue, as Pöck had another outstanding game offensively with a goal and three assists. The line of Dawes, Helminen, and Genoway scored yet again, with Dawes netting his 11th goal of the season. Ivan Baranka had a more physical edge to his game than usual, getting involved in two scuffles tonight, including one after the final horn had sounded. Blake Bellefeuille, recently called up from Charlotte and signed to a PTO contract, finished off his own rebound to score a nifty goal in the second period that was all effort.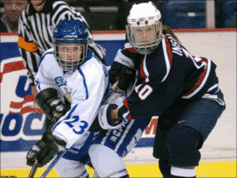 USA vs. Finland
Prior to the Wolf Pack game, there was an afternoon game played between the USA Women's team and Finland. This was my first time seeing a women's hockey game up close, and the play was much more physical than the no-contact hockey that I was expecting. The teams seemed fairly evenly matched at the start, but the best two or three players on the ice were definitely on the American side (especially Krissy Wendell, who is a standout skater and puck handler), with the Americans having a considerable size advantage as well. If I remember correctly, the Finnish squad didn't record more than one shot on goal throughout the entire second period and through most of the third, and the U.S. ended up winning, 5-3.