Giroux tallies two as Pack rub out Rats, 5-4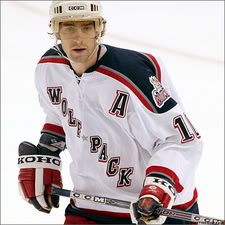 Alexandre Giroux
(Chris Rutsch photo)
In a see-saw battle that saw the lead change hands three times, the Hartford Wolf Pack defeated the Albany River Rats on Sunday,
5-4
. Alexandre Giroux scored twice for the Wolf Pack (21, 22), including his AHL-leading sixth shorthanded goal of the season in the third period on a great feed by Jarkko Immonen. Immonen also assisted on Giroux's other goal. With the win, the Wolf Pack move back into a tie for second place in the division with Manchester, while the River Rats fall even further into the division's basement. Albany's 33 points is second-worst in the AHL ahead of only the San Antonio Rampage (31), the Phoenix Coyotes' affiliate who coincidentally will be visiting the Hartford Civic Center to play the Pack this following Friday.
Thomas Pöck had a goal and an assist for the Pack, and Hugh Jessiman added his third goal of the season, using a nifty spin move to slide the puck past the River Rats' goalie, Scott Clemmensen. Colby Genoway had the game-winning fifth goal for Hartford, Genoway's 17th of the season. Albany's brilliant Russian,
Aleksander Suglobov
scored twice, pushing his goal total to 19; the only other River Rats player in double figures is Aaron Voros (11).
Rampage? You bet!
Getting back to the San Antonio Rampage, who
like to play with guns
apparently (let it be known that Sidearm Delivery supports every American's Second Amendment rights)-- Martin Sonnenberg, recently picked up in a trade that sent Jeff Taffe to San Antonio, looks to be a very useful addition so far for the Wolf Pack. Sonnenberg stays active the entire game and doesn't shy away from physical play or getting his hands dirty, as well as having some decent offensive skills also (19 points in 45 games this season). I think having Sonnenberg and the re-born Hugh Jessiman in the lineup, instead of guys like Taffe and the infinite healthy scratch Fedor Fedorov, will prove to be a big positive step for this team as the second half of the season progresses.