Pirates prevail over Pack, 5-4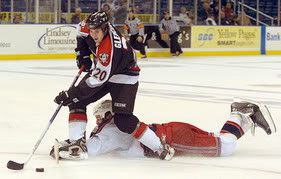 Courant photo
The Hartford Wolf Pack lost at home to the Portland Pirates on Saturday night,
5-4
, in a entertaining back-and-forth contest that had plenty of bumps and bruises for both sides. With the loss, Hartford falls back into a second-place tie with Manchester.
In the first period, Wolf Pack goalie Al Montoya strayed out to the blue line to play the puck and was upended, landing awkwardly on the back of his neck. Montoya finished playing out the period but left the game after that, with Robert Gherson playing the last two periods in net for the Pack. Later in the game, Portland goalie Nathan Marsters took a puck in the chops and was down on the ice for a while, and Ivan Baranka checked a Portland player completely into the Pirates' bench when the door to the bench popped open after the two players crashed into the boards.
Hartford jumped out quickly in this one, with Craig Weller scoring just 27 seconds into the contest, but three straight goals by the Pirates turned a 2-1 Hartford advantage into a 4-2 deficit early in the third period. Hartford then scored two goals to tie it, with Nigel Dawes picking up a loose puck on a weird bounce in the Portland end and jamming it home, and then shortly afterwards Bryan Rodney splitting two defenders and roofing a nice wrist shot over Marsters' glove to make it 4-4.
Fedor Fedorov was a heathy scratch for the second straight night. The game drew a crowd of 7,951 fans, raising Hartford's average attendance to 5,221 on the year-- 11th in a league of 27 teams and above the minimum 5200 benchmark required by MSG's lease, giving Jeff Jacobs one less thing to snivel about.