Wolf Pack beat Lowell, 4-2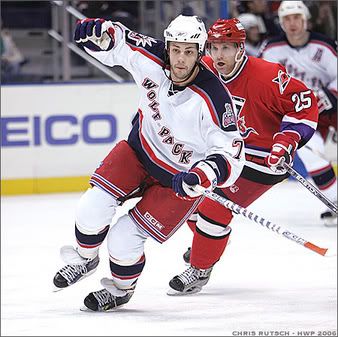 Joe Rullier (Chris Rutsch/HWP photo)
One day after losing
8-2
in Lowell-- their most lopsided loss of the season and their fifth loss in their last seven games-- the Wolf Pack enacted a measure of revenge against the Lock Monsters on Saturday night,
beating Lowell
in Hartford, 4-2. Joe Rullier tallied the first two Hartford goals, with Chad Wiseman (10) and Nigel Dawes (22) also scoring goals for the Wolf Pack. Martin Sonnenberg had two assists, and was +3. Defenseman Rory Rawlyk was +2 and had an assist in his first game for the Wolf Pack this season since being called up from Charlotte to replace David Liffiton, who was out with a concussion he suffered in the first period of the previous night's loss.
Al Montoya showed a return to form in this game, stopping 22 of 24 shots, including two sets of spectacular saves in the final three minutes of the game. In his previous two games, Montoya had given up 2 goals on 7 shots against Lowell on Friday, and 3 goals in 10 shots against Springfield on Wednesday.
The win was only Hartford's second in 6 games against the 19-22-4-4 Lock Monsters this year, and their first victory in 5 tries against goalie Vitaly Kolesnik. Tonight's game was also the first of six Wolf Pack games this season that are
airing live
on Fox Sports, although the in-house feed at the game was a bit difficult to follow, since the center ice video board has begun to look all weird and over-exposed lately.
Meanwhile, even further down on the farm, Dusty Jamieson provided the winning goal in a
2-1 overtime victory
by the Charlotte Checkers over the Toledo Storm, in Charlotte. Earlier today, Jamieson was named the ECHL Player of the Week for Jan. 16-22, having put up 5 goals and 9 points in that span.