Wolf Pack Clinch GEICO Cup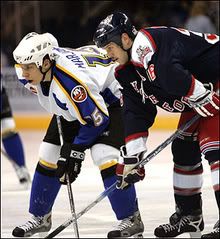 Who's planning the parade?
In a road game that I didn't go to, and barely listened to on the radio-- gotta love Bob Crawford, but he has a voice sometimes that sounds like mice trying to claw their way through sheetrock-- the Hartford Wolf Pack
defeated
the Bridgeport Sound Tigers in Bridgeport after an overtime shootout, 4-3. The line of Nigel Dawes, Colby Genoway, and Dwight Helminen had a hand in all three of Hartford's goals in regulation, with Dawes netting his 14th and 15th goals of the season, and Helminen his 19th. The Wolf Pack outshot the Sound Tigers, 13-1, during the scoreless 5-minute overtime, after the shots on goal were even (33-33) during the game itself. The win upped Hartford's record over Bridgeport this season to 60-0-0-0, or something.
Looking at the scoresheet, I see that Fedor Fedorov drew a diving penalty in the first period, if you can believe that (
noooooooo
).
For more info on the GEICO Connecticut Cup, go to the Search This Blog box at the very top of this page, and type in the word "trivial". (That's a joke, son.)