Wolf Pack crush Hershey, 4-0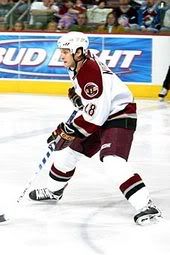 Lawrence Nycholat
In a game that had a number of interesting sub-plots, not the least of which was the return of
Lawrence Nycholat
to Hartford for the first time since he signed with the Capitals organization
over the summer
, the Wolf Pack trounced the Hershey Bears on Friday night, 4-0. The win was Al Montoya's
first shut-out
as a pro, and Montoya was also given credit for 2 assists.
Fedor Fedorov was scratched for this game, hopefully because of his uninspired play as of late, and defenseman Bryan Rodney was brought up from Charlotte. Rodney didn't play that bad of a game, showing some defensive toughness as well as some offensive ability, though apparently he's been tagged as being a bit of a slacker by Charlotte fans (this according to Pack Attack, who usually knows about these things).
Nigel Dawes, who I think has been Hartford's best all-around player this season, scored twice in the third period, giving him 17 goals on the year. Dwight Helminen scored his 20th, even though a replay seemed to show that it didn't go in; the AHL doesn't allow the refs to use replays, though, because not every game is set up for it. Hershey's captain (and former Pack player)
Void
Boyd Kane was ejected from the game for arguing the call and for swinging his stick at the glass in front of the goal judge. How a bum like him ever became a captain in this league is something that I can't figure out.
David Liffiton, a ferocious fighter, fought Louis Robitaille in what seemed to be a draw. Liffiton has been an awesome fighter all year, and throws punches with total abandon, which makes him fun to watch. Later in the third period, Craig Weller tore apart Dwayne Zinger, in what probably was the best fight I've seen so far this year. Both players landed almost a dozen heavy punches, with Zinger having the upper hand at the beginning, but Weller took over and had Zinger down on the ice by the end of the bout.
The attendance seemed to show a bit of a bump Friday night, following the last home game when over 12,000 showed up for "Whalers Appreciation Night", and I did see a few more people at the game wearing Whalers jerseys than I usually see, but the attendance was announced at only 4586. Tonight's game (Saturday) marks the return of another departed favorite, Maxim Kondratiev, when the first-place Portland Pirates come to town.