Wolf Pack flatten Falcons, 6-3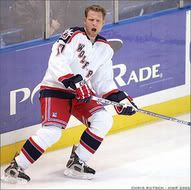 Martin Sonnenberg (Rutsch photo)
All-Star defenseman Thomas Pöck recorded his
third 4-point game
of the season (1g, 3a), with defenseman Dan Girardi posting three assists of his own, as the Hartford Wolf Pack
beat
the Springfield Falcons at home on Wednesday night, 6-3. Hartford came into the game having lost 3 of their last 4 at home. The win allowed the Wolf Pack to gain a bit of ground in their division, with second-place Manchester and first-place Portland being idle.
Robert Gherson was credited with the win for the Pack, as Al Montoya was pulled (for the second time in 8 days) after giving up 3 goals on Springfield's first 10 shots. Martin Sonnenberg, a gritty winger
newly acquired
for ineffective floater Jeff Taffe, played his first game in a Pack uniform, on a line with Craig Weller and Chad Wiseman.
The line of Dawes - Genoway - Helminen was back together again, after a two-game break due to Helminen's groin injury, and it was a productive reunion as Dawes scored his 21th goal of the season, with Genoway scoring his 16th. Alexandre Giroux (19), Chad Wiseman (9), and Hugh Jessiman (2) also scored goals for the Wolf Pack.
Now that it's just past the halfway point in the season, some people like to hand out "report cards" on all of the players. For instance, you could log on to HockeyTurd and get some
useable info
written by a guy who actually goes to Wolf Pack games and knows what he's talking about, or you can go to
some other guy
.