Wolf Pack whomp Providence, 6-2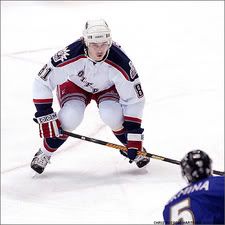 Fedor late, then never
Led by two goals from Alexandre Giroux, the first one coming only 1:18 after the opening puck drop, the Hartford Wolf Pack
steamrolled over
the Providence Bruins on Saturday night, 6-2, before a healthy crowd of 6,420. Hugh Jessiman added a goal for Hartford, his first ever in the AHL, and had an assist.
Fedor Fedorov was finally inserted into the lineup after being a healthy scratch for four straight games, and he played with a little bit more effort, getting credited with a point (his 12th assist of the season) and a +1 rating. Fedorov was also on the ice for the penalty kill at one point, which was almost comedic to watch.
Thomas Pöck, apparently loved in New York but given far less regard in the better parts of Connecticut, was back in a Pack uniform after spending a couple of games with the Rangers. Pöck was paired for most of the game with "Less Than" Jake Taylor, possibly making up the most ineffective defensive duo the Pack have put on the ice this season. Pöck was up to his usual tricks, letting the puck out of the zone while playing the point on the power play and so forth, but the Pack won the game big, so I should probably just leave it alone.
Dwight Helminen, the Pack's leading scorer with 32 points, was scratched for some reason-- possibly to get Fedor Fedorov back on the ice, though I'd have a tough time accepting that as a good enough reason to break up the most effective line the Wolf Pack have had this season. Jeff Taffe took over Helminen's centerman position on the line with Nigel Dawes and Colby Genoway, which didn't really work too well, though Dawes did score a goal (his 20th).
Martin Grenier scored his second goal of the season, when he flipped the puck towards the net and it took a lucky bounce off of a Providence player's skate. Grenier also won two fights in the third period, including an absolute pummeling of Mark Stuart-- at one point cracking him so flush on the jaw that it made Stuart's helmet pop straight up like a Rock'em Sock 'em Robot. Grenier fought Scott Ford a few minutes after that, though few actual punches were thrown, with Grenier wrestling Ford for a bit before throwing him down to the ice.
(Photo credit: Chris Rutsch/Hartford Wolf Pack)