Father Fedorov Spots Czech Conspiracy
Fedor Fedorov (Rutsch photo)
After being a healthy scratch for the majority of Hartford's games recently, Fedor Fedorov notched 2 points in last Saturday's 6-0 Wolf Pack victory over Portland. So, despite it being a somewhat minor item, I've decided to run this article that appeared on
Sport Express
earlier today, if only because there just hasn't been enough Fedor Fedorov news lately:
Fedor Fedorov, formerly a forward with Metallurg and Team Russia, lost out on his last chance to be added to the roster of the New York Rangers during the Olympic recess.
(The NHL breaks after Feb 12th for more than 2 weeks to accomodate the Winter Olympics.)
For the past two months, the junior brother of Sergei Fedorov has been with the farm club in the AHL, the Hartford Wolf Pack, where-- judging by the statistics-- he hasn't distinguished himself: 30 games, 16 points (2g, 14a), a "minus 1", and 57 penalty minutes.

"In light of a number of subjective reasons, not the least being the fact that the Rangers have decided to take the course of only those players that are of one European country, Fedor himself cannot break out within their system," noted Victor Fedorov, the player's father. "However, that is a completely separate issue, one that it isn't yet time to address. I have no doubt that Fedor's situation will radically change soon."

As it is known, the Rangers, lead by Jaromir Jagr and his many brethren Czech team-mates, have been contending for first place in their division for the first time in 10 years.
Well, now that we've gotten that all settled, time to move on to who should captain the Russian Olympic team.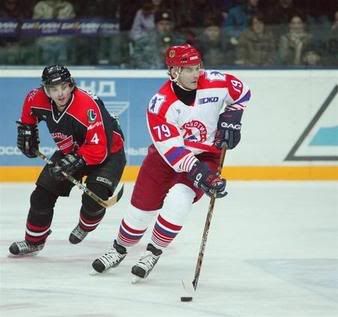 Alexei Yashin (79) skating for Lokomotiv Yaroslavl last season
According to a story that appeared just a short while ago in
gazeta.ru
, it could be either the Montreal Canadiens' Alexei Kovalev, or the New York Islanders' Alexei Yashin:
Head coach of the Russian Olympic team, Vladimir Krikunov
(Dynamo Moscow)
and star forward Maxim Sushinsky
(also of Dynamo)
recently discussed in an interview who should be the captain of the Russian team at the Olympic Games in Torino. According to Krikunov, the captain should be selected with the aid of a vote among the players.

"Certainly, the captain will be selected with the input of the players as to who the candidates should be," said the Russian head coach.

"The captain, of course, must be a player of authority", said Sushinsky. "Such as Alexei Kovalev, who has already been the captain of the team this past season. I don't think that is something that is worth changing."

"I think the players will vote for either Yashin or for Kovalev. Considering that the majority of players on the team also played in Vienna
(at the 2005 World Championships)
, where Kovalev was the captain, I would not be suprised if they chose him this time also", said the Russian head coach.
Click here
to read a recent Russian Hockey Digest interview with Alexei Kovalev about the Russian Olympic team.