Quack, Quack, Quinnipiac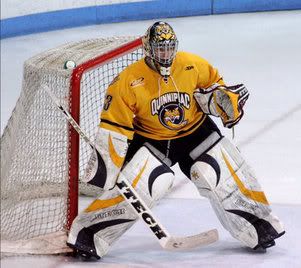 Quinnipiac goalie Bud Fisher (QU photo)
While the Wolf Pack were thumping the Pirates up in Maine on Saturday night,
6-0
, Mrs. Brushback and I travelled down to New Haven to watch the Quinnipiac Bobcats
beat St. Lawrence
, 3-1, at Ingalls Rink. St. Lawrence came into the game ranked #18 in the nation, one of four
ECAC schools
ranked among the nation's top 20 Division One hockey teams; Cornell (#5), Colgate (#17), and Harvard (#20) are the others. The Bobcats' defeat of St. Lawrence drew the traditional, derisive "Over-rated!!" chant from the QU students in the crowd, as the game's final seconds ticked away.
The win was Quinnipiac's 4th in five games and their second in a row since introducing their Donald Duck-colored gold jerseys the night before, in a 6-1 win over Clarkson. Quinnipiac had enjoyed an 8-game win streak at the beginning of the season but then started to struggle towards the middle part of their schedule, as their record now stands at 15-14-0 (6-11-0 in league play).
The offensive star of the game for Quinnipiac was freshman forward Bryan Leitch, who scored two of Quinnipiac's three goals in the game and assisted on the other. Freshman goalie Bud Fisher played an outstanding game for the Bobcats, stopping 31 of 32 shots and inspiring chants of "He's a freshman!" from the crowd whenever he made one of his better saves. Quinnipiac's starting goalie last year, Jamie Holden, is now with the San Jose Sharks organization and has played for the Cleveland Barons (AHL) and Fresno Falcons (ECHL) this year. This season's Quinnipiac roster also features junior defenseman Reid Cashman, the team's leading scorer who had been chosen as a finalist for the 2005 Hobey Baker Award as a sophomore last season.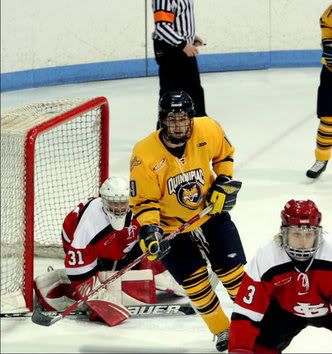 Quinnipiac forward Jamie Bates (QU photo)
Ingalls Rink
, where the game was played, is actually the home ice of the Yale Bulldogs hockey team, who also play in the ECAC with Quinnipiac. The rink doesn't have much of its own parking, meaning that fans have to park in the streets of the neighborhood around the rink; but that wasn't too bad, as I got there early enough to get a spot right near the doors. The rink, which is nicknamed "The Whale" because its humpback-shaped roof, was designed by the same architect who designed the Gateway Arch in St. Louis. So, besides getting to see an entertaining hockey game for cheap, a trip to Ingalls is a lesson in goofy-looking modern architecture to boot.