Wolf Pack smother Falcons, 4-3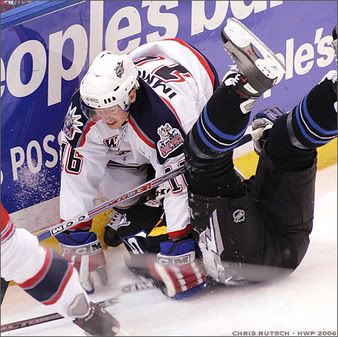 Jarkko Immonen (Chris Rutsch/HWP photo)
Dwight Helminen broke out of a month-long scoring drought with two goals, his 22nd and 23rd of the season, as the Hartford Wolf Pack
beat
the Springfield Falcons on Friday night in Hartford, 4-3. At one point the Wolf Pack were up 4-1 in this game, but two late goals by the Falcons-- including Jason Jaspers' 20th of the season with just a handful of seconds left in the game-- made for a closer final score than the game actually was. The Wolf Pack threw a season-high 58 shots on net despite being a man down for one-third of the game, including having to kill off six Springfield power plays in the first period alone. Jarkko Immonen scored his team-leading 25th goal of the season for the Pack, and Chad Wiseman and Thomas Pöck added two assists. With the win, Hartford moves into a tie for second place with Manchester in the Atlantic Division.
Lee Falardeau led off the scoring for the Wolf Pack, scoring a short-handed goal six minutes into the first period. It was Hartford's 18th short-handed goal of season, which leads the AHL by a wide margin. Falardeau was later ejected from the game when he drew a 5-minute boarding major early in the second period.
Hugh Jessiman, for being a fairly big guy (listed at 6'-5" and 220 lbs), doesn't seem to be much of a fighter, as he was manhandled by Springfield's Andre Deveaux in the second period. At first Jessiman tried to turtle his way out of the fight; then, after finding himself nearly folded in half as the refs were trying to separate the two players, Jessiman started punching at Deveaux's legs, which was a pretty cheap move. A few seconds later, Martin Grenier fought Mitch Fritz, in a lengthy brawl that literally went on for several minutes. Fritz, a cagey fighter, was able to control Grenier almost the entire way, pulling Grenier's jersey up over his head and down around his arms so that Grenier was unable to throw any effective punches.
Since the game was out of hand early, I killed time by thinking up ways to mock some of the player names on the Springfield roster. Legend has it that Evel Knievel
played hockey
for Charlotte in the EHL; well, the Falcons this year have "Awful" Kvapil, as well as "Bell Biv" Deveaux, Mitch "On The" Fritz, and Mike "Ham 'n" Egener. The Falcons also have
Chris Dingman
playing for them now-- not that there's anything funny about that, except that the guy won two Cups in the NHL and now he's stuck playing in dreary Springfield. As I was flipping through the Falcon's yearbook the other day, I also noticed that the Falcons have a team sponsor whose web page is
f-k.com
, which is no relation to the
second-greatest band
ever on Matador, in case you were wondering.
One of the more amusing parts of the game (for me at least) was noticing Martin Grenier telling David Liffiton to position himself a few feet further to his left as they waited for a second period face-off, and then watching the puck drawn back right to where Liffiton was standing before Grenier had moved him.
Al Montoya was back on the ice after missing three games to an injury, skating around as Gherson's back-up goalie during pre-game warmups. Fedor Fedorov was a healthy scratch yet again and is rumored as being offered around as trade bait (yeah, good luck with that).