Wolf Pack upended by Bridgeport, 5-1
Bridgeport's
Sean Bergenheim
scored four times, including the first three goals of the game to chase Hartford goalie Robert Gherson, as the Sound Tigers went on to
defeat
the Wolf Pack in Bridgeport on Wednesday, 5-1. The win was Bridgeport's first against the Pack this season, following 6 straight losing efforts. Bergenheim now has 25 goals on the season. Hartford's lone goal came in the second period, by Alexandre Giroux (24). Hartford outshot the Sound Tigers, 41-26.
The loss ended the Wolf Pack's recent streak of 8 straight games without a defeat in regulation (7-0-0-1). Replacing Gherson in net after Bergenheim's third goal of the night was Chris Holt, just recently reassigned to Hartford after a stint in Charlotte (Holt has since been
recalled by the Rangers
to be target practice in NY while Henrik Lundqvist is away). It should be noted that the same four letters in "Holt" are also in "Holmqvist"-- as in Johan Holmqvist, against whose place in history as the worst Wolf Pack goalie ever Chris Holt is now challenging.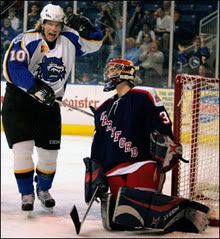 Sean Bergenheim scoring on Robert Gherson