Dawes' hat trick downs Rampage, 4-2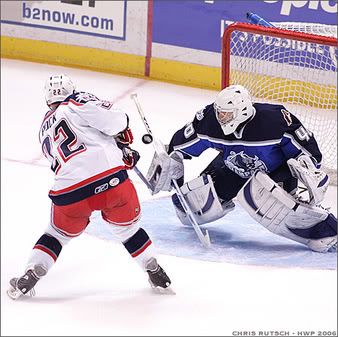 Thomas Pöck fires a shot on Karl Goehring in a game against the Rampage earlier this season (Chris Rutsch/HWP photo)
The recap of last night's Wolf Pack win in San Antonio, from the San Antonio Rampage
web site
:
San Antonio Rampage center Layne Ulmer scored a pair of goals as the Hartford Wolf Pack defeated the Rampage 4-2 at the AT&T Center Friday night. Rampage goaltender Karl Goehring had 42 saves on the night as the Rampage were outshot 46 to 23.

Ulmer gave the Rampage a 1-0 lead at the 10:59 mark in the opening period as Mike Bishai and Tim Jackman collected assists on Ulmer's power-play goal. Hartford's Nigel Dawes answered back early in the second period to tie the score before Ulmer gave the Rampage another one-goal lead. Ulmer intercepted a bouncing puck in the Wolf Pack's defensive zone and scored an unassisted, short-handed goal for his second goal of the night and 16th of the season.

Dawes called Ulmer's goal less than two minutes later to knot the score at two with three minutes remaining in the second frame.

Hartford took advantage early in the final period by scoring a power-play goal 1:40 into the third before Dawes completed his hat trick 43 seconds later.
Nigel Dawes now has 27 goals on the season. Joe Rullier scored the other goal for the Pack. Dawe's linemate, Dwight Helminen, had three assists, and Colby Genoway had two assists. Hartford is now only 2 points in back of the Portland Pirates for first place, and have moved 6 points ahead of third-place Manchester.
The Rampage web site also has an
interesting article
on what it takes to create the ice surface for their hockey rink, including all of the water and paint that's involved. The ice is made from scratch only twice each season (which is typical for most buildings), while the flooring for all the other events, like concerts and basketball games, gets placed right over the ice whenever it's needed. Obviously, this can be a nuisance if someone at one of the other events spills something on the floor and it happens to leak down onto the ice below:
"We had a couple of times last year after rock concerts when we had to do emergency repair because drinks had slipped through the cracks," said John Sparks, the AT&T Center's Vice President and General Manager. "When that happens we clean out the crack really well, pack it with zamboni ice, and let the zamboni shave it off so that it is ready to go."
In other news, the AHL has
issued a card set
of 49 of the top prospects that are playing in the league this season, including the Wolf Pack's Nigel Dawes and Al Montoya.
Here's what the Al Montoya card looks like: