Don Steele coughs, Bob Crawford grows a beard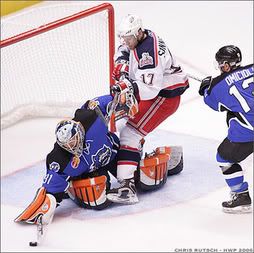 Martin Sonnenberg knocks on Wade Dubielewicz'
doorstep (Chris Rutsch photo)
The Hartford Wolf Pack fell behind in a hurry last night, giving up four goals to the Bridgeport Sound Tigers in a span of about 6 minutes during the first period. The Pack eventually chipped away at Bridgeport's 4-0 lead, with a goal by Hugh Jessiman with 8 minutes to go in the third making it a two-goal game at 5-3, but that was as close as it would get. Bridgeport added an empty-netter with a minute and a half left, and
went on to win
, 6-3. It was the Sound Tigers' second straight victory against the Wolf Pack, after Hartford won each of the first six meetings between the two teams this season. Colby Genoway scored his 25th goal of the season for the Wolf Pack, and Bridgeport's Rob Collins scored his 20th goal and added two assists.
Hartford's starting goaltender, Al Montoya, was pulled for the fifth time in his last 14 starts, with Robert Gherson coming into the game to start the second period. The Wolf Pack came back with a flurry towards the end, outshooting Bridgeport 19-5 in the third period, but were unable to dig themselves out of the early hole. Wolf Pack coach Jim Schoenfeld, from this morning's Hartford Courant:
"Monty once again had a dreadful start. We have to be ready to play and get goaltending for 60 minutes... I'm not saying the guys in front of our goaltenders were flawless either, but the combination of the two just makes it insurmountable."
Among the very few interesting things of note from last night's game were PA announcer Don Steele accidentally coughing loudly into an open mike while the puck was in play, which has to be a violation of some "PA Announcer's Code" or something, and Smurf-ish
Bob Crawford
suddenly sporting a full-on "evil leprechaun" beard, as seen during the "Coach's Corner" segment before the start of the game.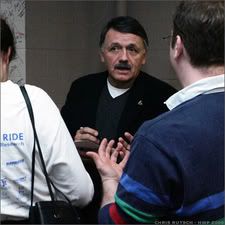 Glenn "Chico" Resch (Chris "Chico" Rustch photo)
Also in the evil leprechaun department: Chico Resch (not to be confused with
Chico Hell
,
Lawrence Crane
's fanzine from the mid-80's) made an appearance at the game during the second intermission, signing autographs and allowing people to touch his hair to see if it's real (which it seems to be). Chico knows something about comebacks, having once backstopped the Islanders to a playoff series win after being down 3 games to none, but his aura was no help to the Wolf Pack and their own comeback efforts on this particular night.
Hartford remains solidly in second place in the division, although now 6 points in back of first-place Portland, and will face-off against the fourth-place Providence Bruins at 4 o'clock in Providence today (4:00 being only a couple of hours from now as I'm typing this).