Dusted in Springfield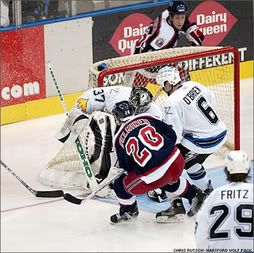 Chris Rutsch photo
Thomas Pöck just spent a week in New York playing in the NHL, but it was 5 minutes that Pöck spent in the penalty box in Springfield last night that doomed the Hartford Wolf Pack. With 4-1/2 minutes to play in the game and the Wolf Pack trailing the Falcons, 2-1, Pöck took offense to a couple of stick chops he received during a standard-issue after-the-play scrum behind the Springfield net. Unthinkingly, Pöck twice used the blade of his stick to spear the Springfield player straight in the gut, drawing a 5-minute spearing major and a game misconduct. The penalty insured that the Wolf Pack would play the rest of the game back on their heels and shorthanded, eliminating almost all chance of a comeback. The Falcons were able to easily
skate home with the win
, 2-1.
Early in the second period, Wolf Pack center Lee Falardeau suffered a leg injury as a result of an open-ice, knee-on-knee hit from Springfield's Andre Deveaux. Falardeau had to be helped off the ice, unable to put pressure on his left knee, and Deveaux was ejected from the game, earning a kneeing major and a game misconduct.
Robert Gherson started in goal for the Wolf Pack, and Chris Holt dressed as the back-up goalie, with Al Montoya scratched due to a stomach virus. Holt skated in pre-game warm-ups sporting a brand-new helmet with the Wolf Pack logo and "Holtzy" painted on the front and back. It should probably read "Schottzie" instead, after Marge Schott's dog, because that's who Holt plays like.
The game program that I bought had the autograph of the Falcons' Mitch Fritz on the inside, meaning that I was a "Lucky Signature" winner. My prize was a $15.00 gift certificate to Belmont Laundry ("The House of Quality"), which will come in handy should I ever decide to go to Springfield, Mass., to do my laundry.