FBI's Galante probe includes UHL players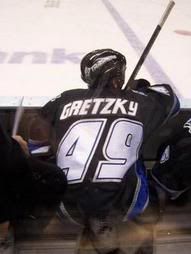 From a story that ran in the
Hartford Courant
:
New Haven, Conn (AP) 3/17/06 -- The commissioner of the United Hockey League and at least five players, including the brother of Hall of Famer Wayne Gretzky, have received subpoenas as an investigation into organized crime in the trash industry spread into minor league hockey, The Associated Press has learned.

James Galante, who owns the Danbury Trashers hockey team and numerous trash companies, is the target of an FBI racketeering investigation, his attorney has said. The FBI Organized Crime strike force is investigating the trash industry in Connecticut and New York.

League president Richard Brosal said he testified before a grand jury in New Haven but said the UHL is not a criminal target. Prosecutors do not normally call criminal targets as witnesses.

"The investigation is against Jim Galante and his trash company," Brosal said Friday. "They're bringing the team into it because he also owns the Trashers."

Investigators also subpoenaed several players, including Brent Gretzky, a former Trasher now playing for the Motor City Mechanics in Michigan, according to someone with direct knowledge of the case who spoke on condition of anonymity because grand jury matters are secret by law.

Trashers forward Jeff Daw and former Trashers Jay Murphy and Scott Sterling were also subpoenaed, the source said. UHL spokesman Brian Werger said Jim Duhart, a former Trasher now playing for the Missouri River Otters, was also subpoenaed.

Investigators want to know whether Galante violated the league's salary cap and paid players under the table, the source said. Federal documents in the trash investigation show the FBI is scrutinizing all of Galante's business dealings.

Thanks go out to G12 for the heads-up about this latest development.
Related posts:
FBI Probe Of Danbury Trashers Owner Widens
(Nov. 29 '05)
Danbury Trashers' Owner Targeted By Feds
(July 21 '05)
(Photo of Brent Gretzky sitting on Trashers' bench taken from redpac.com)