Puffy Shirts Prevail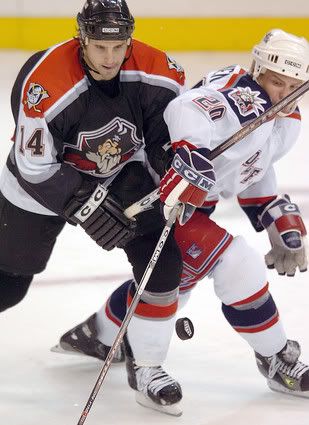 Portland's Geoff Peters and Hartford's Dwight Helminen (Courant photo)
The Hartford Wolf Pack's luck ran out on Wednesday night, as they again spotted the opposing team to a big lead yet this time were unable to mount a comeback,
losing
to the visiting Portland Pirates, 5-1. The Wolf Pack have been able to overcome two- and three-goal deficits several times in the past week or so against the also-rans of the league, like Albany and San Antonio, but they weren't going to pull it off on this night against the Pirates, the team that Hartford is battling for first place in the division. Geoff Peters had a hat trick for Portland, and
Jani Hurme
, acquired only days before from the Atlanta Thrashers, played an outstanding game in net for the Pirates.
Hartford's lone goal came on an exceptional second effort in the second period by Nigel Dawes, after the Pack were already down, 3-0. With the Pack in a shorthanded situation, Dawes broke free with the puck and skated in on the Portland net, but was ridden off the play by Pierre Parenteau. Parenteau shoved Dawes down to the ice in the direction of the end boards and then skated away, apparently thinking that Dawes would just fall down and the scoring chance would be over. Instead, Dawes kept to his skates and, with his back to the play, fired a seeing-eye pass right onto the stick of Dwight Helminen, trailing behind him. Helminen quickly rifled a shot past Hurme for the score, his 24th goal of the season.
One of those damn Portland Pirates fans
There were some fans at the game in the next section over from where I was sitting, whom I'm guessing drove down from Portland for the game. A couple of them weren't wearing jerseys, but instead wore pirate garb-- you know, a puffy shirt with a scarf on, and an eyepatch. I'm not even kidding! I'm letting you people know right now that when the Wolf Pack play the Senators this weekend, if anyone sits near me in costume as Chuck Schumer or Arlen Specter, I swear we're gonna have some
issues
.