Relic Redux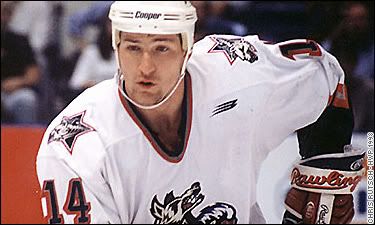 Chris Rutsch photo
In a player exchange that seems to be the biggest news in the Hartford area since the
Cow Parade
, today the Hartford Wolf Pack acquired winger
Brad Smyth
on loan from the Manchester Monarchs.
The official
ahl.com
release:
As AHL teams made their final major roster preparations for the remainder of the 2005-06 season, the Hartford Wolf Pack have acquired Brad Smyth on loan from the Los Angeles Kings. In exchange, the New York Rangers have assigned defenseman Joe Rullier to the Manchester Monarchs.

Smyth, who turns 53* today, leads the Monarchs in scoring with 64 points (27g, 37a) in 64 games this season. The Ottawa native ranks 28th on the AHL's all-time scoring list with 645 career points in 594 games over 10 seasons. Smyth is also tied for 12th place on the AHL's all-time goal-scoring list with 319 goals.

Smyth returns to Hartford, where he spent five seasons from 1997-2002. He is the Wolf Pack's all-time leader in goals (177) and ranks second in points (343), and helped Hartford to the Calder Cup championship in 2000.
Brad Smyth is the leading active scorer in the AHL, whose 68 goals with the Carolina Monarchs as an AHL rookie in '95-'96 is still the second-highest single season total in the 70-year history of the league. Smyth also stands as the last AHL player to score 50 goals in one season (
a mark being threatened this season
Scratch that, the Griffins' Don MacLean got his 49th and 50th on Sunday), reaching that total in '00-'01 with the Wolf Pack.
After a 54-goal season with the OHL's London Knights in '92-'93, Smyth broke into the pro ranks with the Birmingham Bulls of the ECHL, scoring 26 goals in 29 games in '93-'94 and 33 goals in 36 games in '94-'95. Smyth last played in the NHL in '02-'03, when he had 4 points (3g, 1a) while appearing in 12 games for the Ottawa Senators.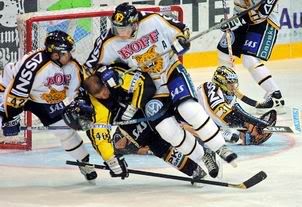 They Hate Us In Scandinavia: Brad Smyth getting crunched while playing for Oulun Kärpät in '03-'04
In receiving Smyth, the Pack have seemingly given their struggling offense a shot in the arm, as the team has scored only one goal in each of their last three games. A pure and prolific goal scorer, Smyth's only apparent liabilities as a player are that he's too old, too short, and too slow, and that he can't skate a lick, nor play defense to save his life. Plus, his nose is way too big, forcing the Wolf Pack ticket office to announce that rinkside seats will now be sold as "obstructed view". I kid, I kid! (For more on Smyth's unique talents, check out the
Sidearm Delivery
archives.)
Going from the Wolf Pack to the Manchester Monarchs is
Joe Rullier
, a usually rock-solid defenseman who's had a troubled season in Hartford. Rullier was a fan favorite in four previous seasons with Manchester, before signing a one-way NHL contract with the Rangers this past off-season. Despite the one-way contract (meaning the player continues to draw his NHL salary even if he's sent to the minors), Rullier was assigned to Hartford out of Rangers training camp, and lately there had been rumours about Rullier grumbling and being unhappy about his situation in Hartford.
Of course, the wacky snowbound and cabin-fevered
Manchester fans
are having contractions over this recent set of player moves, but that's another story in itself.
*a slight exaggeration