The Road To Norfolk
The Hartford Wolf Pack won the second game (of back-to-back games) in Norfolk this past Saturday night,
beating the Admirals 5-4
on the strength of another Alexandre Giroux hat trick. The win clinched a playoff spot for Hartford, a relatively minor stepping stone with the Wolf Pack still in a fight with Portland for the top spot in the division.
Pack Attack and G12 made the trip down to Virginia for the game at "The Scope" in Norfolk (or "Norfork", as they say down in Bridgeport), returning yesterday and putting together a report for packattack.org. Here are just a few of the highlights from their report:
Inside the Scope we scoped out the Scope. In our Hartford jerseys people looked at us like we were dropped-eyed freaks. We went to our seats and there were only two other people in the whole section and our seats were directly in front of them. So as not to be thought of as jerks we started a conversation with this married couple and proved that we were jerks — just kidding.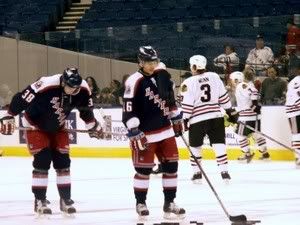 Anyway, during warm-ups we saw that the new guy, Marvin Degon, was in the line-up. Whoever was responsible for bringing the kid's uniform down from Hartford should have NOT brought a GRENIER or Pete Worrell size uniform for the kid. Let's just say, he looked like the new guy in that new uniform.

The new guy was paired up with Pock. He was out of position a few times but the kid does have a shot. It was great to see a couple shots from the half-boards or the top of the circle which were on goal.

A bunch of fights broke out. The Genoway fight was a hugging match. The Shooter fight was a slaughter. Smitty kicked the guys ass. The guys went to the ice, and then Shooter pulled him up to his feet and kicked his ass to the ice again...

With the game won G12 and I headed out to the parking garage to leave. We were treated to one last bit of entertainment. Across the street from the garage was a guy stumbling down street. Bets were wagered if he was going to blow chunks. Let's just say the chunks won.
To read the full report, including lots more about the game and the drive itself,
go here
.
(Images from packattack.org)