Six And Change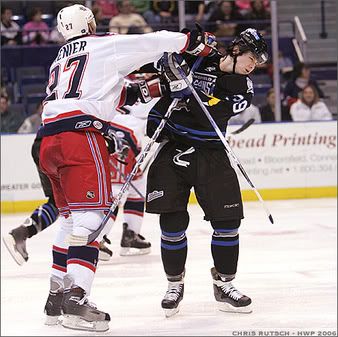 Street Justice: Martin Grenier and Darren Reid tangle (Chris Rutsch photo)
The Hartford Wolf Pack easily dispatched the Springfield Falcons on Friday night, 6-1, in a relatively
clean 2-hour game
that saw only six penalties whistled all night. Alexandre Giroux, Brad Smyth, Craig Weller, and Colby Genoway each had a goal and an assist for the Wolf Pack, who have now won three in a row and are only 4 points behind Portland for first place in the division.
Only three teams in the league have worse records this year than Springfield, even though the Falcons came into last night's game on a relative hot streak (4-1-1 over their last 6). The final score in each of the Falcons' last three games: 7-1 (loss), 7-1 (win), 6-1 (loss).
Brad Smyth's goal was his 30th of the season and, according to the recap in the Hartford Courant, his 322nd career AHL goal. With four more goals in the 11 games that remain in the regular season, Smyth would move into the top ten all-time in career AHL goals and that much further into
"Crash Davis" territory
.
Pack defensemen Marvin Degon and Thomas Pöck, who were teammates on the same UMass team in college, each earned a plus-4 on the night. "Marvin the Martian" has looked especially well so far, playing in only his third professional game since signing an amateur try-out contract with the Wolf Pack last week. Degon, whose full name is Marvin Edwin Degon IV (no shit!), has been keeping his mistakes to a minimum by playing a smart, relatively simple game, showing above-average offensive skills with clean passes and a good, accurate shot.
Despite reports during the week that Peter Worrell had been
recalled
to Hartford from the Charlotte Checkers, Worrell wasn't listed on the roster sheet last night, nor was he announced as a scratch. It didn't look to me like he was sitting anywhere in the building, either.
Some Spell Itt "Mullett"
Speaking of the Checkers, tonight is
Mullet Night
in Charlotte, for the Checkers' home game against the Florida Everblades. Anyone who shows up at the game wearing a mullet-- whether it's their real hair or just a wig-- will get into the game for free. Not just a few bucks off the price of a ticket, mind you, but a
free ticket
. Seeing as the South is the home of the Kentucky Waterfall, this could cause all sorts of problems-- not the least of which could be a Who concert-like crush at the door if all the local good-ol'-boys show up for their free tickets.
Not that the playoff-bound Checkers need to boost their attendance all that much, as they've been getting fairly big crowds now that they've started playing in their
nice new arena
. Charlotte drew 7,941 for their game last night against Greenville, with Rick Kozak (who was up playing with the Wolf Pack just a short while ago) scoring a
hat trick
.
The Checkers have also been gaining some notoriety lately from a bathroom wall ad campaign involving urinal cakes, of all things: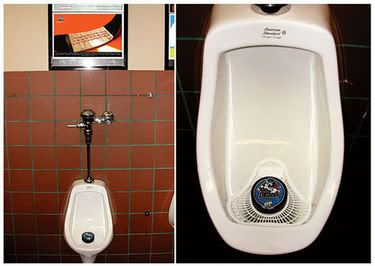 The
sign above the urinal
reads, "The disgusting thing is not that we're going to play with that puck. It's that we're going to shove it down Greenville's throat Friday night."
I'm thinking that's what Down East'ers would call a
pissah
, ayuh.