Alaska's Dubinsky Debuts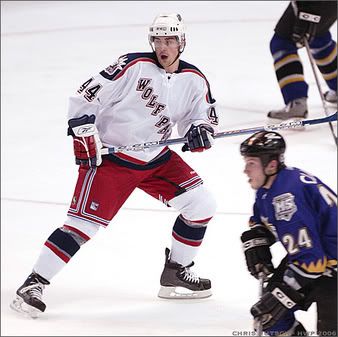 Brandon Dubinsky (Chris Rutsch photo)
The following is an article that the
Anchorage Daily News
ran earlier today, on the Hartford Wolf Pack's Brandon Dubinsky. Dubinsky, a 19-year-old Alaska native who was drafted by the Rangers in 2004,
signed
with the New York Rangers two days ago on Wednesday, before playing for the Hartford Wolf Pack later that night.
The article, written by Doyle Woody, does a decent job of explaining the AHL/NHL salary structure for a player such as Dubinsky.
Brandon Dubinsky, 19, of Anchorage, this week signed a three-year contract with the NHL's New York Rangers and Wednesday made his professional debut with the Hartford Wolf Pack, the Rangers' American Hockey League affiliate.

Dubinsky's deal included a $500,000 signing bonus, according to his father, Bill Dubinsky. The contract is what is known as a two-way deal, with a maximum value of $1,925,000 and a minimum value of roughly $700,000. Under the two-way structure, Dubinsky will receive a substantial salary if he plays in the NHL during the next three seasons and a reduced salary if he remains in the AHL. Bill Dubinsky said the contract would pay his son NHL salaries of $450,000, $475,000 and $500,000, respectively, for the next three seasons, and $60-$65,000 per season at the AHL level.

Dubinsky's father, who grew up a Rangers fan on New York's Long Island, said signing with the Rangers was especially thrilling for his son. Brandon grew up wearing Rangers sweaters and hats and was a Rangers fan like his dad.

"It's been pretty amazing," said Bill Dubinsky. "He was just really excited."

The Rangers drafted Brandon Dubinsky, a center, in the second round of the 2004 draft, selecting him 60th overall.

After Dubinsky's fourth season for the Portland Winter Hawks of the Western Hockey League concluded Sunday, he agreed to terms with the Rangers on Monday. He flew to Hartford on Tuesday, then signed his contract Wednesday and suited up that night.

Dubinsky debuted for Hartford in a Calder Cup playoff game and took the first shift of the game. He didn't score in Hartford's 3-2 overtime win but registered one shot on goal and took one minor penalty for goaltender interference.

Relatively slight when he joined the Winter Hawks as a 16-year-old, Dubinsky has filled out nicely. He is 6-foot-1, 210 pounds, and heralded as a playmaker who isn't adverse to physical play.

Dubinsky this season led the Winter Hawks in scoring with 21 goals and 46 assists for 67 points in 51 games. His average of 1.31 points per game ranked third in the WHL. Even though Dubinsky missed 17 games with a knee injury suffered in January, the numbers he put up were good enough to earn him second-team, Western Conference all-star honors.

The Rangers made him the sixth highest pick in history among Alaskans. The five Alaskans who have been picked higher than Dubinsky -- first-rounders Ty Jones, Scott Parker, Scott Gomez and Barrett Heisten, and second-rounder Matt Carle -- all played in the NHL. Gomez, Carle and Parker remain in the NHL.
Click here
to see Brandon Dubinsky's prospect profile on Hockey's Future.