All The Negatives Have Been Destroyed
Lauri Korpikoski: Britt Daniel, misidentified (Chris Rutsch/HWP photo)
The Hartford Wolf Pack had another "Radio Disney" night on Friday night and
lost
to the Portland Pirates, 5-3, proving yet again that
it doesn't pay to have kids sing at your games
. Portland locked up the division crown with the win, and even with the loss, the Wolf Pack clinched second place in the division and home ice for the first round of the playoffs.
Finnish winger
Lauri Korpikoski
played his first game for the Wolf Pack and scored the game's first goal, skating aggressively towards the front of the net and rifling home a rebound off a shot by Chad Wiseman.
Aexandre Giroux gave the Pack a 2-1 lead early in the second, scoring his 36th goal of the year Bobby Orr-style, with Giroux getting tripped up and flying horizontal to the ice as the puck was going into the net. That was about the most damage that Hartford could muster, though. Portland then scored the game's next 3 goals, as Pack goalie Al Montoya-- who had just spent a week with the Rangers-- didn't look very sharp on any of Portland's four scores on him this night.
Brad Smyth gave the Wolf Pack a puncher's chance in the third period, closing the gap to 4-3 when he tipped home a shot by Dane Byers. Portland's final goal came on an empty net with :17 left.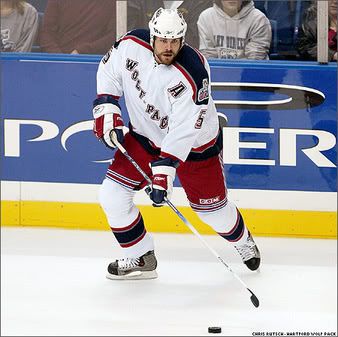 Dale Purinton, with his beard (Chris Rutsch photo)
Dale Purinton, without his beard
Prior to the game, someone named Katelyn Tarver sang a 16-minute version of "America The Beautiful", and then sang a few songs during the second intermission, as well. Not having a bio handy at the moment, I'm forgetting what Katelyn Tarver's claim to fame is; either she competed on an
American Idol
spin-off called "American Juniors", or, she's Paul Stanley, trying to revive a sagging career by pretending to be a 17-year-old girl and wearing a blonde wig.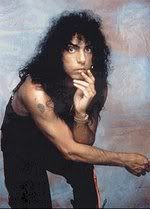 You be the judge.