Flat Pack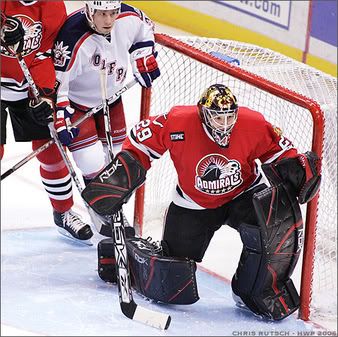 Chris Rutsch/HWP photo
I guess maybe once you've soared to the heights of beating the almighty Springfield Falcons on consecutive nights, it's too much of a task to get your game up for a lowly Sunday afternoon meeting with the Norfolk Admirals (or Norfork, for those of you in Bridgeport). Whatever the reason, the Hartford Wolf Pack put in a lousy effort enroute to taking a
3-2 loss
at home against the Admirals earlier today. Norfolk, in a fight for playoff position with Bridgeport in the East Division and playing without their best scorer, Mark Cullen (called up on March 10th to the parent Chicago Blackhawks), showed more willingness to work than the Pack throughout the entire game.
The first Norfolk goal was as good an example as any, coming when a rebound went out to Norfolk's Nathan Barrett, who backhanded a medium-strength shot towards the net. Dale Purinton, standing like a tree right next to the crease, watched the puck as it wobbled underneath his stick and past him, and then turned around as if to say, "Watch out, Al-- here comes the puck!"
Norfolk had a 2-0 lead when, late in the second period, Marvin Degon scored his first-ever pro goal, on a water bottle-popping rifle-shot from the right side. Hartford then tied the game at 2-2 early in the second period on Alexandre Giroux's 35th goal of the season, but Nathan Barrett scored his second of the game only a few minutes later, making the final score 3-2.
Since the game wasn't much to talk about, here's some interesting stuff that I found on the Carolina Hurricanes web site the other day while poking around the internet, looking for Wolf Pack photos. No doubt a lot of people have seen this stuff already; still, I thought it would be of interest to Wolf Pack fans because of Al Montoya, and I don't remember catching it when it first appeared (at the time, I wasn't blogging, or even looking around the internet as much). Besides, I think it makes for an interesting look back at Alexander Ovechkin, when he was hardly as well-known as he is now.
This is from a "Prospects Introduction" that took place in Durham, NC, as part of the 2004 Entry Draft, two-and-a-half months before the NHL lockout. Alexander Ovechkin, who was about to become the 1st overall pick in the draft, is the first player on the left, wearing a blue Dynamo Moscow jersey. A couple players further in from the left is Wolf Pack goalie Al Montoya (6th overall), in the Michigan jersey with the big green "M" on the front. Next to Al, in the red cap, is Evgeni Malkin (2nd overall), wearing a Metallurg Magnitogorsk jersey. In between Ovechkin and Montoya, wearing a Calgary Hitmen jersey, is Andrew Ladd (4th overall).
If you click on this link, you can watch a video of the players doing a promotional appearance, taking batting practice and throwing out the first pitch(es) at a minor-league Durham Bulls baseball game.
Prospects Introduction, Durham Bulls game
(3:24, Windows Media Player)
This next link opens a video of an on-ice clinic that some of the players gave earlier that same day, and a bunch of the players are interviewed, including Ovechkin:
Prospects On-Ice Clinic
(3:52, Windows Media Player)
If your computer is anything like mine, then you'll find that most video files play a lot smoother the second time through, when they've had a chance to buffer completely.
In any case, I think it's funny to watch Alexander the Great, then only 18 years old, trying his hand at the puck-shooting game outside the stadium and then scurrying up the steps with his prizes, black socks and all.