It's a salary cap for the Russian Super League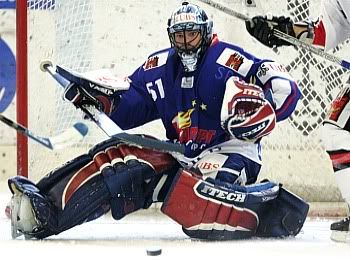 Metallurg goalie Travis Scott
According to reports that began appearing today on a number of Russian news sites, including
Sport Express
, the governing board of the Russian Super Leagues has all but agreed to implement a salary cap ("wage ceiling"), starting next season. All that remains is an agreement on the final numbers, according to the reports.
The cap that is being considered will top out at around $10 million to $12.5 million per team, numbers which at least five teams in the League are already over (see:
Payrolls of the Russian Super League teams
). A 50-percent "luxury tax" is being considered for teams that exceed the cap. Additionally, a minimun payroll level of around $6 million per team would be put into place. Any cap would obviously have an effect on player movement between the Russian Super League and the other pro leagues in North America and Europe.
Also according to a story in
Sport Express
, the Russian Super League is considering phasing-in a ban on foreign-born goaltenders, to be finalized for the 2009-2010 season. This past season in the RSL, the top four teams all featured Canadian-born goaltenders: Ak Bars, Fred Brathwaite; Avangard, Norm Maracle; Lokomotiv, Steve Valiquette; and Metallurg Mg, Travis Scott.
Note: this article was originally a part of another post, until I moved it to here)