Jagr: "I will begin training for next season with Avangard"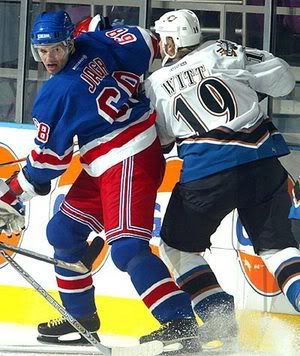 Jaromir Jagr gave an interview in
Sport Express
last week, in which he talks about rooting for Avangard in the playoffs and also him wanting to train in Russia with Avangard prior to the next NHL season. Jagr also mentions the possibility of Maxim Sushinsky coming to the Rangers next year (Sushinsky and Jagr both played with Avangard last season).
Said Jagr, in the interview, "I played in the NHL for many years, and it all began to seem the same-- game after game, plane flight after plane flight, season after season. This probably explains some, why the last few seasons before the lockout weren't my best. Thus, the opportunity to play in Omsk (during the lockout) came at a good time. In Omsk, I was treated very well, and the people allowed me the freedom to live how I wanted, without being forced to follow a strict set of rules. This refreshed me mentally, which I think shows by my play in the current NHL season.
"I had a great time last season in Omsk, and I enjoyed every minute of it. I have a lot of good memories from my time there, and of the friends I made. I plan to travel to Russia this summer and stay for at least a month, and in all probablility I will begin training for next season with Avangard.
"I follow the team's results almost daily, and I still maintain friendships with a number of players and coaches from last year's team. I know that Avangard won the third game of the semi-final with Metallurg, and I am confident that they will make the finals and win."
When asked about a report in
Pravda
(a Russian paper), saying that Jagr would like to see Maxim Sushinsky play for the Rangers, Jagr responded, "You always wish for your team to get stronger. I consider Maxim a player who is capable of making the Rangers a better team. I would be very happy if the team management gave Sushinsky a chance. I will await him in New York."
Jagr was then asked if he would return to play in Russia in four years. Said Jagr, "I doubt that I will still be playing hockey at that time. Although, when I was 18, my father told me that would still be the best in hockey at 37. I'm only 34 now... there could be a chance that I could still be playing then, and at the Olympics in Vancouver (in 2010), though in reality it would be a great miracle."
Sushinsky to leave Super League?
Maxim Sushinsky
led Dynamo in scoring this season with 37 points (12g, 25a) in 42 games, good for 17th overall in the Russian Super League despite playing only about two-thirds of the schedule. Sushinsky's contract with Dynamo Moscow was up right after Dynamo's season ended with an early exit from the playoffs, and Sushinsky was quoted in
Sport Express
as saying that he is aiming to play in the NHL next year. Another Russian club, SKA-St. Petersburg, is interested in Sushinsky's services for next year, but Sushinsky has said he is waiting for the NHL season to end before entertaining any offers. In the Sport Express article, Sushisnky says he will not make his decision on his future club until July 1st at the earliest, with July 1st perhaps not coincidentally marking the beginning of the NHL's free agent period.
(Note: this article was originally a part of another post, until I moved it here)