Marvinized!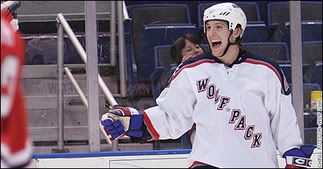 Marvin Degon exults after scoring the game-winning goal in overtime. The
lady behind him blabbing on her cell phone, I'm not sure what her problem
is. (Chris Rutsch photo)
The Hartford Wolf Pack salvaged what had been a pretty lousy weekend,
beating
the Lowell Lock Monsters earlier today in overtime, 3-2, behind some suprisingly great goaltending by Chris Holt and the productive reunion of the team's top offensive line. The win ended Hartford's 3-game losing streak and came against a Lowell squad that has won only 3 of their last 13 games and sits mired in 5th place in the division, nearly 20 points behind 4th-place Providence. The Lock Monsters have often given the Wolf Pack trouble, though, defeating the Wolf Pack in four of eight meetings this season.
The trio of Nigel Dawes, Dwight Helminen, and Colby Genoway has accounted for 90 goals between them so far this season, yet all three players were held scoreless throughout Hartford's three-game losing streak, with Genoway returning only today following a two-game absence. With Genoway back in the lineup, Nigel Dawes scored the first two Wolf Pack goals, his 34th and 35th of the season. The first goal came on a bullet of a wrist shot that Dawes one-timed from the right-hand side while down on one knee, as he has done numerous times this season. The second goal came shorthanded on a great set-up by Helminen, who ran through a Lowell defender and slid a perfect pass over to Dawes, who was skating down the left wing.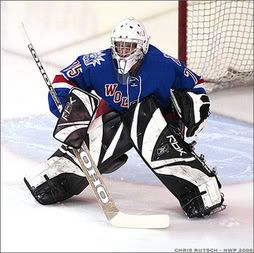 Another picture of Scott Gray, because he's short, and people
seem to like him. (Chris Rutsch photo)
With Al Montoya being called up to the Rangers today, Chris Holt made the start in goal, with Scott Gray again serving as the emergency back-up. Despite having atrocious numbers coming into this game (4.39 GAA, .874 sv pct), Holt played a heck of a game, including two spectacular stops in the first period that kept the game from getting out of hand early.
Marvin Degon's game-winning goal in overtime came on the power play, after Lowell's Blue Bennefield took a 5-minute high sticking major with under two minutes left in regulation. I don't have too much sympathy for Lowell, though, since their trio of midgets-- 5'-5" Brad Zacanaro, 5'-9" David Gove, and 5'-9" Keith Aucoin-- got away with slashing throughout the entire night, as it seemed to be their only option on defense besides getting run over.
Blue Bennefield, who spent most of the game unsuccessfully trying to goad Dale "My Name Is Earl" Purinton into a fight, is also the subject of a pretty good "knock-knock" joke:
Knock knock!
Who's there?
Little Boy Blue!
Little Boy Blue who?
Michael Jackson!
Of course, as anyone who reads HockeyBird could tell you, there's nothing really all that funny about hockey players.