Rock Cats' season gets underway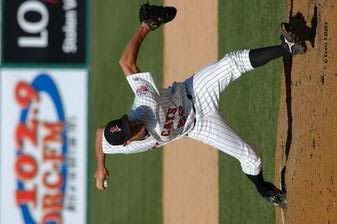 Pat Neshek (Kevin Pataky photo)
The New Britain Rock Cats open their season Thursday morning at home, against the New Hampshire Fisher Cats (the Toronto Blue Jays' Double-A affiliate). The game not only marks the beginning of the Rock Cats' 2006 season, but will also be the very first regular season game played in all of minor league baseball this year, thanks to a 10:35am start time.
Pat Neshek (above), the
Official Pitcher of Sidearm Delivery
, won't be in New Britain this season, having moved up to Triple-A Rochester, but a number of Minnesota's top pitching prospects will be on hand, including lefties Glen Perkins (a member of last year's Rock Cats squad) and Justin Jones, and right-hander Adam Harben. Some of the team's top hitters from last year will be returning also, including 3B Matt Moses (for now), Doug Deeds, and Denard Span.
Maybe we'll get lucky, and one of the teams in the Eastern League will pick up
Jason Neighborgall
...
For more on this year's New Britain team, you can check out these previews from the New Britain Rock Cats web site:
Rock Cats Announce Opening Day Roster (4/4/06)
Rock Cats Season Preview (4/5/06)
And with that, we conclude this post with an
Important Eddie Money-Related News Item: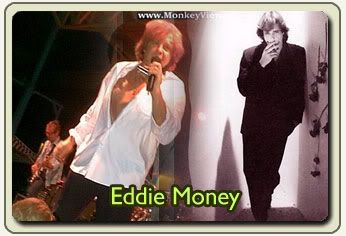 Huey Lewis, take note: Eddie's got both the 'on stage holding my harp' pose, and the 'back stage having a fag' pose. KOOL!
Even though the season hasn't really started yet, there's already been
a big announcement
-- Eddie Money will be appearing at the Eastern League All-Star Game in Altoona!
Those of you who doubt Eddie's place on the
All-Time List of Rock Solo Performers, '78-'82 Pre-Hair Metal Era
(1. Eddie Money, 2. Billy Squier, 3. Donnie Iris-- note: this list is
indisputable
), check out these two major rock tunes, and believe:
Walk On Water
(mp3)
Think I'm In Love
(mp3)
I mean, Damien Pratt didn't write a song called "Eddie Money" for
nothing
. (Actually, he kinda did write it for nothing, but that's not the point.)