Seven Up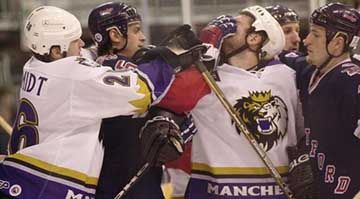 Manchester Monarchs: been kicked around since they was born
Monarchs fans were left crying in their beards (that goes for the men, too) as the Hartford Wolf Pack
defeated
the Monarchs earlier tonight in Manchester, 3-1, leveling their best-of seven playoff series at 3 games apiece.
The Wolf Pack started out on top, 2-0, for the fourth game in a row, this time making the early lead hold up with the help of some stellar play by Chris Holt, starting in net in place of the injured Al Montoya. Colby Genoway, Greg Moore, and Chad Wiseman all scored goals for the Wolf Pack.
That does it! Next year, instead of season tickets, I'm spending my
nights in front of the buffet down at Sizzler!
The deciding seventh game of the series will be played in Hartford on Saturday.