Skid Slips In
Maybe I just don't get out often enough, but it seems lately that every time I travel to Bridgeport for a Hartford Wolf Pack road game, some relative unknown in a Sound Tigers uniform scores against the Wolf Pack. Robert Nilsson, who has 8 goals total this year, scored twice in one game back in December against the Pack, and Saturday night it was Joe Tallari and Peter Tsimikalis (who? beats-the-hell-outta-me) scoring for the Sound Tigers. With the Wolf Pack unable to solve Bridgeport goalie Wade Dubielewicz, who made 24 saves between the second and third periods, Bridgeport went on to
beat
Hartford, 2-1, allowing the Sound Tigers to inch within two points of clinching the final playoff spot in the AHL's East Division. The Wolf Pack have now lost 3 straight games, coming after they switched to their all-blue "Rangers"-style jerseys last weekend... not that I'm superstitious or anything (knock on wood).
With Robert Gherson injured and Chris Holt called up to the Rangers to be the back-up goalie for a game in Boston, the Wolf Pack had to go with an emergency back-up goalie, Scott Gray, who wore #75. I'm not sure why Gray was available for this game (maybe he has relatives in the area that he was visiting for Palm Sunday, who knows), but what little that I could find out about him seems to be that he's the goalie for New England College, in Henniker, New Hampshire.
Scott Gray
Luckily, Al Montoya stayed relatively unscratched throughout the game, and it's likely that Holt will be able to return to the Pack for their game at home against Lowell this Sunday (which is kind of like today, actually).
After being missing in action earlier in the year,
Zamboni Dave
has also made his return as Bridgeport's in-house MC, for what that's worth. Actually, the Zambonis' web site is where I found this cool video, of a lacrosse-style goal scored by the aforementioned Robert Nilsson:
Robert Nilsson goal vs. Wilkes-Barre
(Windows Media Player)
Back to the game at hand.
In what was sort of an odd scene, the game had to be halted for about a minute or two after the third period had already started, because the ice hadn't had time to freeze well enough during the intermission. It was probably because of some old husky lady who, practically out of the blue during the second intermission, came out near the end boards and started singing "America The Beautiful" or "God Bless America" (I'll get it right, one of these days). She blared out each note so long and loud that the rendition took about 17 minutes, or about a minute longer than Katelyn Tarver's version at the Wolf Pack game the night before.
The game featured a near-sellout crowd of 7679, which is a once-in-a-year sized crowd for Bridgeport, though at least a couple of thousand or so in attendance were Wolf Pack/Rangers fans. At the beginning of the game, Zamboni Dave went into the stands and introduced the "Sound Tigers Fan of the Year", and (I am not pulling your leg) it turned out to be this guy: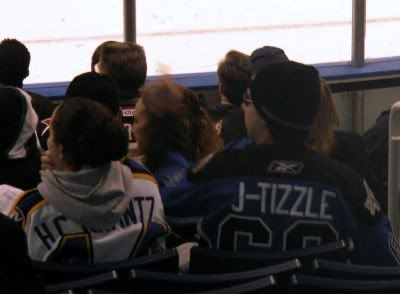 Photo credit: packattack.org
When some dumbass wearing a customized Sound Tiger jersey that reads "J-TIZZLE 69" is your team's "Fan Of the Year", you know you've got problems.